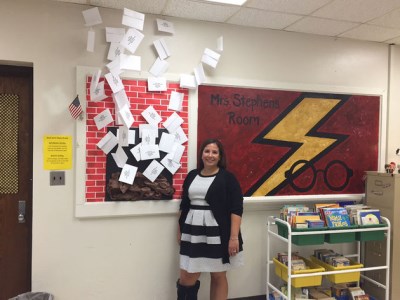 When Stephanie Stephens' students arrived in their classroom at James L. Capps Middle School in Oklahoma City, what they saw immediately made their Monday morning one to remember.
Stephens had virtually transformed their classroom into the set of Harry Potter and the Sorcerer's Stone, complete with potions, mythical creatures and even a mock-up of Platform 9 ¾.
"It got me thinking that if I can get adults to be excited about reading using Harry Potter, I can get my students excited about reading as well," Stephens told
The
Huffington Post
.
"I thought of all the magical things Harry saw and experienced and put myself in his shoes and picked the things that I could pull off in a classroom."
In total, Stephens spent nearly $500 dollars of her own money to give the classroom its supernatural twist.
"I chose to go with the Harry Potter theme because if I am excited and enthusiastic, students tend to follow suit," Stephens said.
"My goal is to help students find at least one book or genre that they can find exciting and be as enthusiastic about as I am regarding Harry Potter."
While some students who were unfamiliar with Harry Potter were understandably confused, Stephens said most were excited and "immediately drawn in" to the class.
Stephens said her students' favourite part of the classroom was the cabinet displaying various 'magic potions'.
"They love playing with them while waiting for class to start," Stephens said.