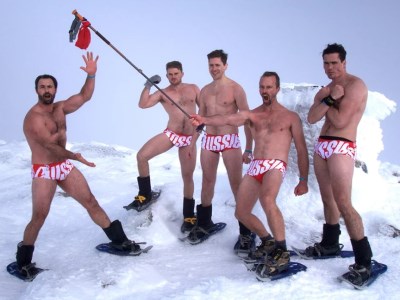 On July 8, five brave souls, including two Sydney teachers, took it upon themselves to brave the arctic temperatures of Mount Kosciuszko wearing nothing but their cossies.
While such endeavours are usually the work of daredevils seeking a thrill, these fearless five were doing it for a good cause – to raise money for the depression awareness charity,
Beyond Blue
.
It all started when one of them, Sydney teacher Blake Leonard and a fellow teacher, Ben Anderson, were discussing ways in which they could better help students with mental illness.
"We thought about what else we can do as teachers to help kids with mental health issues. A lot of the time, we feel like we're putting out spot fires and putting Band-Aids on problems," Leonard told
The Educator
.
"So we asked: 'what's a meaningful way we can show that we care about these issues as teachers?'"
Leonard and Anderson later chanced by a podcast of "The Iceman" Wim Hof, who holds 26 world records for extreme challenges in the cold.
Some of Hof's notable feats include standing in ice for two hours, swimming underneath thick ice, and climbing Mount Everest and Mount Kilimanjaro wearing nothing but shorts.
"Ben turned to me and said: 'why don't we do something like this?' And so the idea was born from there," Leonard said.
With the plan having been hatched, the two them gathered three other friends for the gruelling challenge and set out to raise $100,000 for the depression awareness charity, Beyond Blue.
The team of five did some research, as well as undertaking ice submersion training, which Leonard said tested their physical limits.
"During that process, we were focused on training and making sure we could actually do it. We had a practice run in Thredbo at the start of Winter before the actual climb," he said.
"The training run was two and a half hours, there and back, but on the actual day it was four and half hours in total."
For most of the trip, Leonard recalled being knee-deep in snow – but there were even more challenging conditions yet to come.
"At the summit, it was minus 4 degrees, which was really testing our physical limits, but were surprised ourselves by how much our bodies adapted to the harsh conditions," he said.
So far, the five have raised $39,000 but are hopeful that this amount will increase before donations close at the end of the month.