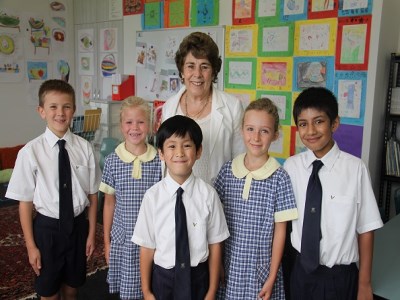 John Colet School
is a multi-faith co-educational infants and primary school, located on Sydney's Northern Beaches. The school had a change of the guard in April when its headmaster, Gilbert Mane, stepped down after 25 years at the school's helm.
Mane handed what he called "the jewel in the crown of NSW education" to the school's new headmistress,
Mary McKendrick
, who shared some insights into the leadership and teaching practices that keep that jewel sparkling brightly.
"I'm always amazed at what children can do if they are given the opportunity and encouragement," McKendrick told
The Educator
.
"It's not so much a question of John Colet being up there with the best, it's more what can we offer the children and how can we encourage them to give of their best," McKendrick said.
The unique way in which John Colet delivers its curriculum has earned it a place among the nation's top ranking primary schools.
McKendrick said her school is a place where students' academic and creative boundaries are expanded, but where students are educated to become "men and women of good character in the service of others".
"All the school staff make an effort to adhere to the school vales, these are not just for the children. We don't tend to ask the children to do things that we are not prepared to do ourselves," McKendrick said.
"If we are asking children to do their best, for example, it only seems fair that the teachers also give of their best."
McKendrick said children should always be given the best material so they can aspire to be the best – and John Colet's diverse curriculum certainly attests to McKendrick's point.
"This is why we study Shakespeare and Sanskrit, and sing the best of music such as Mozart and Vivaldi and ensure that the children are exposed to the finest of artists," McKendrick explained.
John Colet's culture has also been shaped by the School of Philosophy, which McKendrick referred to as "a unifying influence" in her school, adding some of John Colet's teachers have been members.
"Its main influence has probably been through the basic belief that there is something common in all of us, and something common in all religions. We look towards that which unites us all, rather than that which divides," McKendrick explained.
The School of Philosophy, which also offers meditation to children after the age of 10, is something that resonates on a personal level with McKendrick, who said it was one of the "great gifts" she has received.
"As someone who has meditated for many years I consider it one of the greatest gifts I have received, and if the children are given meditation, and practice it, it gives them a tool for life," McKendrick said.
"We also practice mindfulness exercises at John Colet, which help the children to focus, give attention, and can relieve stress."
With studies showing a spike in principal burnout and due to increased workloads, McKendrick said the practice of meditating and having a positive frame of mind helps offset the stress associated with the busy role.
"Meditating twice a day helps in dealing with stress and in some way it changes the way you look at things and the things you consider being important in life," McKendrick said.
"My years of experience in teaching have led me to the firm belief that children are inherently good, and we need to look to, and draw out that goodness."