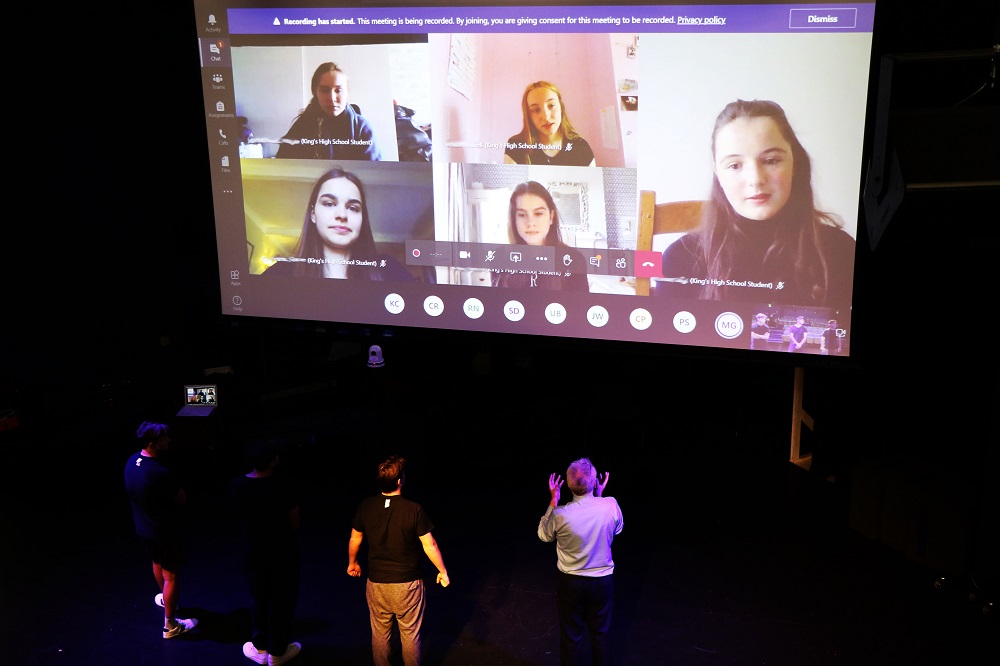 The return to classroom teaching and learning is being welcomed by many students, parents and educators who, for more than two months, have been trying to navigate the challenges posed by the shift to remote and flexible learning.
For most classes, the return to face-to-face teaching and learning will look different in that social distancing will need to be adhered to, and while this may have its teething problems, the classes themselves are not expected to look markedly different.
However, for other more physical and interactive classes, like Drama and Sport, social distancing can prove more complex. The lack of spatial and physical engagement between students has been a major concern for some Drama teachers when it comes to conducting online practical performance workshops, for example.
Michael Griffiths, Director of Drama and Theatre K-12 at Knox Grammar School, has experienced this issue first-hand.
"Drama subject depends upon a high quotient of kinaesthetic learning processes and the use of production elements such as set, costumes and properties within the designated performance space," Griffiths told The Educator.
"These elements of teaching and learning could have been compromised by the parameters of online learning and the deceptively limited visual and aural scope of a laptop screen and camera".
And this is an issue that could potentially impact students' long-term learning outcomes.
Research has shown students who undertake Drama are more successful academically as well as socially and with their mental health.
It was with this is mind that Griffiths was determined to find a way to circumvent the stifling impact that lockdown was having for his Drama students.
Broadening perspectives for students
Griffiths has come to take the view that the camera becomes "a different and certainly more complex audience eye."
"For example, we have encouraged the students to step away from the laptop camera and create performances spaces where variation in proxemics lends meaning to the visual impact," Griffiths told The Educator.
"Similarly, our teachers have also been liberated from the head and shoulders perspective to employ full body perspectives in their teaching processes".
Through this, Knox Grammar's Drama students have not only experienced the external perspective of performers in a split screen configuration but also the actors' perspective of each other, providing greater visual dimensions to the performance experience.
"We have also employed split screens to emphasise dramatic contexts, such as the dislocation of a relationship," he said, adding that lifting the laptop and carrying it through various spaces enables Drama students to employ more visual dynamics to reflect, for example, a character's lack of motivation.
"Multiple split screens have allowed us to continue class warm-ups at the beginning of each lesson. The Drama students have indeed thrived at Knox in the context of remote learning," he said.
What other Drama teachers can learn
Griffiths pointed to an increasing emphasis on digital projections in theatrical productions and this could be mirrored in the Drama classroom.
"Creating digital backgrounds for performers, interesting perspective of faces, hands or even a specific property or corner of a room can powerfully direct the focus of the audience," he said.
"Through the flexibility and fluency of digital perspectives, we are exploring fictional worlds beyond the 'here and now' spatial-temporal parameters of the established school performance space".
Griffiths said Drama teachers should consider how the laptop or digital camera "liberates rather than constricts" the processes of the Drama classroom.
"In this regard, Knox has already engaged in shared online performances with a United Kingdom school to broaden further the performance opportunities for our students," he said.
Dr David Roy from the University of Newcastle, who works closely with governments and disability advocacy groups, said the Knox Grammar initiative has shown how a seeming problem can become a means to further deep knowledge and deep understanding.
"Drama is a tactile subject where the basis of play-building is the interaction of individuals together," Roy told The Educator.
"For the student at Knox Grammar, this has forced them to become even further aware of their physicality and space. Students have to consciously, in every moment consider how they can use space and positioning to communicate emotions to an audience, whilst remaining physically distant".
Knox Grammar is also using the online experience to enhance the face-to-face one with performers performing live to one another using video screens upon the stage, allowing students to not only work with each other but collaborate with other schools, including internationally.
"The very barriers and restrictions that COVID-19 has created has liberated and freed the students and the schools to allow new creative ideas to flourish," he said.
"In many ways, as is often the case with Drama teaching, it the limitations, budgetary, space or otherwise, that force us to develop innovative solutions to problems that lead to a greater creative and at times aesthetic depth".
Roy highlighted the importance of relying on the performance skills and knowledges developed to demonstrate deep understanding, "rather than masking limitations with other people's technology".
"These are simple and moderately inexpensive solutions that any school could apply," he said.
Roy said that in a world that is forcing people to isolate, Drama students are using isolation to reflect relationships on stage and how that isolation can bring people together.
"It is of little wonder that those that are seen as being most advantaged see the power and value in Drama in ensuring their students achieve to the highest academically," he said.
"It therefore leaves one to wonder why Drama is not seen as core in all schools, particularly the most disadvantaged, to offer all students success".