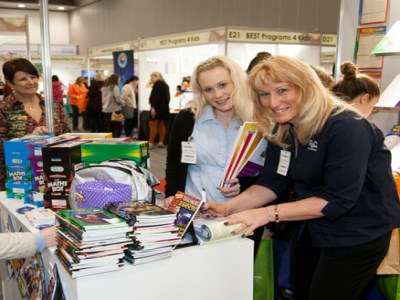 A key event of The National Education Summit will kick off next month, drawing principals, school leaders, business managers and educators from across the K-12 education industry.
The Education Show, which will be held September 1-2 at the Melbourne Convention and Exhibition Centre, will share the latest in resources, products and services for Australia's classrooms, schools and teachers.
Visitors can build their own professional development by attending the free seminars to earn PD hours and maintain their teacher registration before the deadline 30 September 2017.
The Education Show , which is free to all educators across every level of the industry, includes leading experts focusing on learning technologies, literacy and classroom management, through to teaching and learning programs across the curriculum.
There will also be a Spotlight Stage, where exhibitors will deliver presentations on new products, services and programs they are offering classrooms.
The Makerspace, a brand new feature to the Education Show, will allow exhibitors to demonstrate a range products, gadgets, technologies and activities that educators can apply in the classroom. Visitors will be able participate in activities with exhibitors.
Dr David Zyngier, a senior lecturer at the Faculty of Education at Monash University, will be one of the speakers at the event and will discuss how teachers can engage all students, but specifically those from disadvantaged backgrounds.
"It was recently claimed that almost 50% of our students are disengaged from school. Is this actually true? What does this mean for our teaching?" he told The Educator.
In his presentation, Zyngier will report on what he has learnt about student engagement over 30 years of teaching in the most disadvantaged schools and more recent research.
"I will show teachers how to ensure that what we teach will actually engage our students. Examples of engaging curriculum will be used. This session is suitable for all teachers from K-12," he said.
Zyngier said The Education Show is "a brilliant opportunity" for teachers from the most experienced to recent graduates to learn about and experience the latest in innovative curriculum, pedagogy and assessment in one place for free.
"I always bring my final year education students as well to see what their immediate future could look like," he said.
"The seminars and talks are always highly relevant and entertaining as well. And there are lots of freebies and showbags for everyone too".
Marie Kinsella, The Education Show's CEO, told The Educator that the event, which is held just once every year over two days, presents a unique opportunity for education and teaching professionals to strengthen their skills and stay ahead of the curve.
"There are over 100 exhibitors showcasing new school resources and products as well as a comprehensive free seminar program encouraging fresh ways of thinking and problem solving," Kinsella said.
"And for those school leaders and principals looking for more educational content, The Education Show is a key event of the National Education Summit, offering the latest insights in concurrent conferences and masterclasses".
Seven Steps to Writing Success creator, Jen McVeity, told The Educator that she will explain the explicit techniques behind Step 2 of the Seven Steps program, called 'Sizzling Starts'.
"What we try to do in the seminar is to run it like a workshop, even though it might be for 300 people. This means teachers get to put themselves in the place of their students and actually learn by doing," McVeity said.
"[Step 2] involves a writer starting at a moment of impact to engage the reader's attention immediately".
McVeity likened the process to a James Bond movie, which usually starts with an intense action scene.
"Writers then backfill the less exciting bits of information, such as who and where the action is unfolding," she said.