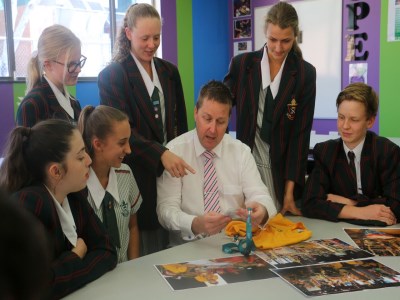 Currently underway in a classroom at St Paul's School, located in Brisbane, is a ground-breaking project that is commanding attention on the world stage.
What's more, the project is being led by a cohort of Year 3 students whose design thinking outcomes will soon be incorporated into a major corporation's 2030 masterplan.
It all began several years ago when the school researched, prototyped, tested and rolled out five 'learning realms' designed to ensure that by the time its students left school, they were equipped with the most relevant skills.
The learning realms – creativity, design thinking, entrepreneurialism, global sustainability and inquiry – are each overseen by a head of learning who is tasked with making lessons as engaging and productive as possible.
The school's design and technology teacher, Justin Hill, began collaborating with the school's head of learning, Tim Osborne, to investigate ways in which the school's design technology curriculum could be further enhanced.
"By pure coincidence, I met a lady who worked for Brisbane Airport Corporation (BAC) which, at the time, was designing a second runway for its second airport, and she mentioned that design thinking was playing a big part in this," Hill told
The Educator
.
"After talking to her about this and explaining what we were doing at St Pauls, she connected me with people who were involved in this project. From there, we realised that we definitely wanted to collaborate with them in some way."
A few days later, the school's junior school announced it was hosting a 'Morphing Week' with the theme 'We can fly'.
"All of the sudden, the penny dropped and we realised we could run a design thinking course where kids can design an airport," Hill said.
"The school is always looking for ways to be innovative and connect with the community, so the school was very supportive of this idea."
And so in October last year, the school ran a two day design symposium where executives from BAC and other industry experts such as domestic and military pilots, worked alongside Year 3 students in imagining the airport of the future.
At the conclusion of the workshop, the question presented to students was: 'What would the air travel experience of 2028 look like?'
Hill said that following hours of brainstorming and group work, students were split into groups of ten. Each group would work on how to improve important services at BAC, such as air travel itself, entertainment, security and catering.
However, when the feedback sessions began, the executives were so impressed with the students' ideas that some of them were chosen for the Airport's 2030 masterplan.
BAC has agreed to work alongside Year 3 students again in October as part of the school's second design symposium, as well as some new projects later in the year.
"In some ways, the students are like management consultants. The project was student driven from start to finish, and what really surprised Tim and I was just how engaged and creative the students were," Hill said.
"Students have all of the knowledge they need on portable devices in their pockets, so we don't need to give them the content – we need to teach them how to ask questions and collaborate with anyone, regardless of how – and where – they are."
Due to the immense level of positive feedback from the school community, St Pauls has now started running design thinking sessions for parents who Hill said are "lining up in great numbers" to participate.
"Parents are genuinely interested not just in how we're teaching their kids, but how they can support that, and this has led to many offers of help from parents who are involved in various industrial companies," he said.
"Through these connections, we've been able to source materials that students can use in their design thinking projects."
Hill, who has been asked to speak at Educhange in Melbourne and Edutech in Singapore later in the year, said he'll be highlighting the learning outcomes that the workshops have produced.
"Our school has taught design thinking to our middle and senior year students, but I've been lucky enough to introduce this to our junior school children," he said.
"I think schools are mad not to be teaching junior school kids design thinking, because if we can get them to foster these dispositions early on, it's going to become part of their mindset beyond school."
Related stories:
Elevating the experience of education
Future-gazing: Australian innovation and the class of 2028