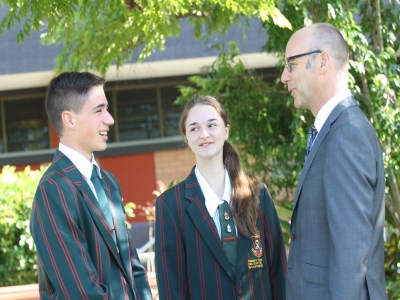 This week, Prime Minister
Malcolm Turnbull
launched a $1bn innovation and science agenda as part of an "ideas boom" for a nation hungry to ramp up its competition on the global stage.
One principal following this very closely was
Dr Paul Browning
, who heads St Paul's School, located in the northern suburbs of Brisbane.
To Browning, the Prime Minister's plan aligns with a vision he has spent years developing with the help of global thought leaders, politicians and education experts.
However, Browning told
The Educator
that while the PM's plan explained the 'what' (the curriculum) it did not explain the 'how' (helping children understand how to use that knowledge to potentially create the jobs of tomorrow).
"I welcome the Prime Minister's announcement, but he needs to do more to explain how we are going to prepare young people for the future world and employment landscape," he said.
"In that future world, the whole employment landscape is going to change considerably from what we are used to today. We'll probably be competing for work on a global stage, contracting for small pieces of work that have been handed out by big corporate organisations, and they'll be competing with people in various countries."
Browning added that students may need to create their own employment opportunities.
"This means that students will need an entrepreneurial capacity and an innovative spirit. It's about how we approach the teaching being done in the classroom and foster those things in young people," he said.
"We can do this by shifting the focus from the delivery of content to a teaching capacity that nurtures and grows the skillsets that young people will need."
To help give his own students an edge in this dynamic and challenging future environment, Browning initiated what he described as a "significant scenario-planning project" which he believes is one-of-a-kind in a school context.
Browning had the opportunity to interview 32 thought leaders from around the world that specialised in politics and education. Each contributed towards crafting a vision of future scenarios students are likely face to face in the year 2028.
"We looked at the world of 2028 when our youngest children will reach Year 12 and graduate from school. We discovered 82 trends that were emerging, and we were able to map out those trends fairly easily," he explained.
"However, we discovered two critical uncertainties that could impact schooling and education as we know it today. One of them was employment and the other was ICT and the impact that it will have on education."
Browning said these two crucially important areas are the focus of current efforts within his school, which established a centre for research and innovation in 2009 in order to refine and tailor the school's programs to its strategic vision.
Over that time, over 130 schools from around Australia and New Zealand have come to observe how the school has been improving teaching and learning.
Browning explained how he and his team created five positions within the school for teaching coaches in order to develop "learning realms" which are skills that young people will need in the future.
"We have one head of learning whose role is to foster the entrepreneurial capacity of young students, and their role is to support teachers to develop skills to embed within their classroom practice," he said.
"Another head of learning focuses on design thinking. His job is to help teachers embed within their teaching program the capacity to help students identify problems and identify solutions.
"There are five heads of learning who are doing that kind of work, and the impact it's having on student engagement and outcomes is really starting to become quite remarkable."
Browning said that too much emphasis has been placed on declining mathematics, science and English scores and not enough on the nation's entrepreneurial and innovative capacities.
"If you look at the statistics and the research, Australia is an innovative country, alongside places like the US. However, we always seem to laud the fact that we're not doing particularly well in mathematics, science and English in comparison to places like China or Finland," he said.
"Conversely, our entrepreneurial and innovative capacities are right up there amongst the world's best, so we really should be capitalising on that and building it into our schools' programs to support young people with those skillsets."