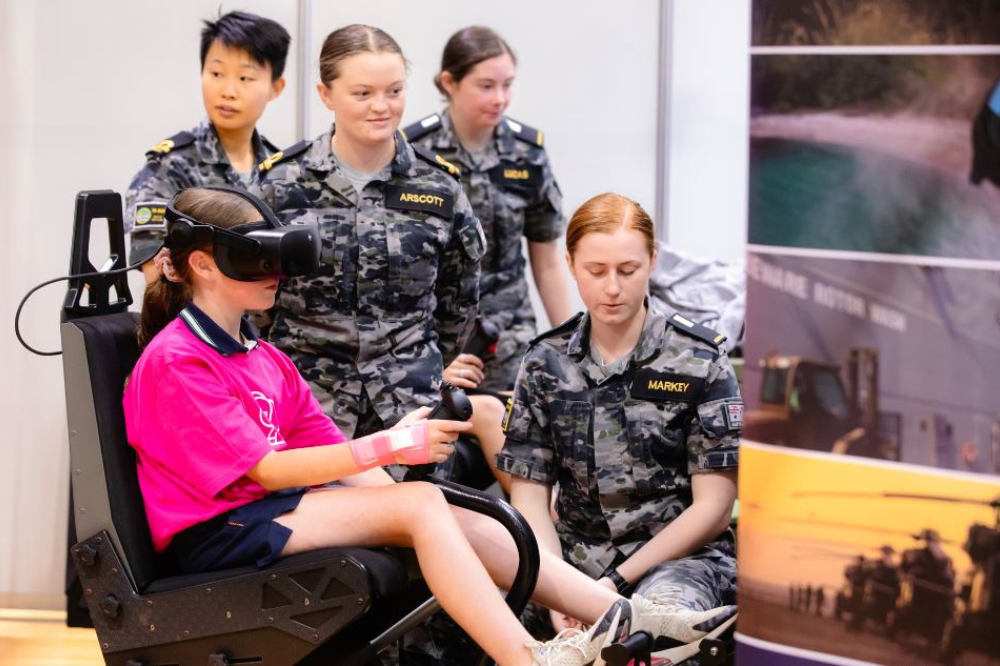 More than 800 students from 35 schools across Western Sydney recently attended Girl's Tech Day at Blacktown Leisure Centre Stanhope.
The event, designed to excite students about Science Technology Engineering and Maths (STEM), was hosted by Amazon Web Services (AWS) and Inspiring the Future, an organisation which aims to raise the aspirations of young people, from primary school students to high school students.
At the event, students got hands-on with a range of interactive STEM experiences – from racing Formula 1 paper models next to a full-size Formula 1 racing car, to LEGO robotics, to aircraft flight simulation through coding, and more.
Read more: How principals can boost female engagement in STEM education
Girls' Tech Day was launched by AWS in 2018. Since then, it has hosted in-person and virtual events in cities across the globe, reaching nearly 7,000 girls and young women aged 8-24, to inspire and motivate them to develop and pursue interests and careers in technology. Yesterday marked the first-time post-pandemic that the event had been held in person in Australia.
Speaking at the event, Stephen Bali MP, State Member for Blacktown, and Michelle Hardie, Head of Strategy, Operations and Enablement, ANZ at AWS highlighted how important events and programs like this are in encouraging and inspiring young people to explore careers in STEAM.
"It was so exciting to see hundreds of young women from Western Sydney engaged in all manner of STEM activities at AWS Girls' Tech Day, supported by Inspiring the Future at Blacktown Leisure Centre," Hardie said.
"These talented young people got to hear from an inspiring Women in Tech Careers panel and explored a range of hands-on experiences – from building and racing Formula One-like paper models next to a life size F1 car, LEGO robotics, to coding as part of a flight simulator and so much more."
Hardie said all of this is comprised in AWS' mission to support students in the Western Sydney region and bring more STEM education opportunities to young learners.
"AWS and Inspiring the Future could not have hosted such a wonderful event without the support of our exhibitors and industry partners," she said.
"A big thank you to those that helped us bring it to life, including Academy of Information Technology, AusSIP, Careers with STEM, Defence Force Recruiting, the Department of Education and DOE Careers in Cyber Security, Fizzics Education, Fulton Hogan, MCB Business Partners, Neuranext, REA, STEMpedia, Sydney Water, TAFE, Thales, and UTS Women in Engineering."
The original version of this article originally appeared as a press release from Herd MSL and has been edited for length.