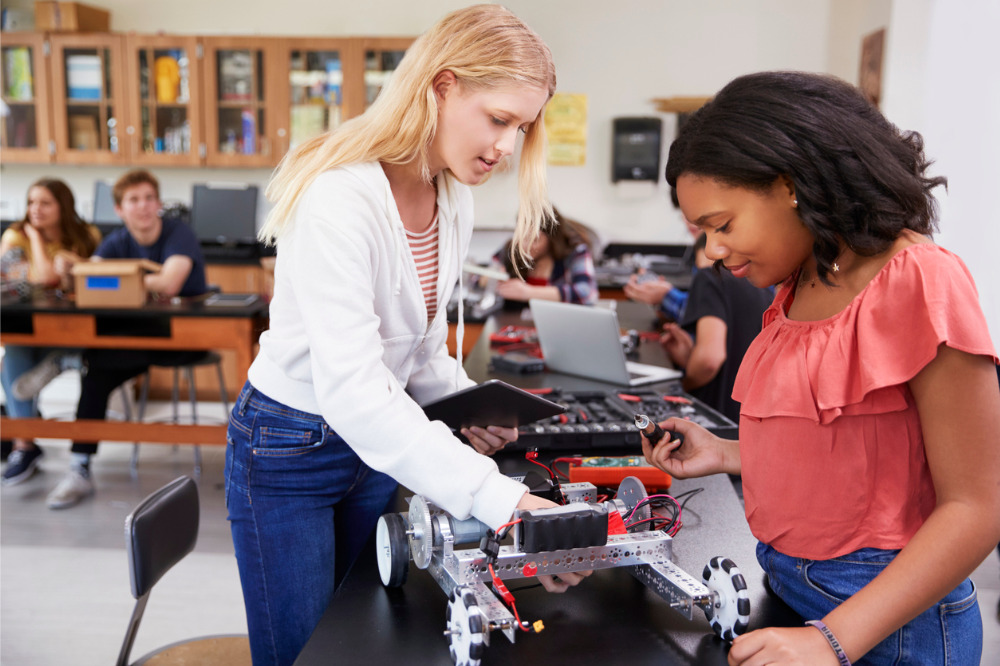 Multiple studies have shown a significant disparity between genders working within STEM careers in Australia.
In July, one report revealed a 50% drop off in girls studying STEM beyond high school. This worrying trend could have long-term economic implications for the country, as studies show that changing just 1% of the Australian workforce into STEM roles would add more than $57bn to Australia's GDP.
However, despite 81% of women believing STEM is critical to Australia's future, four-in-five young women and girls hesitate in choosing STEM study.
Fortunately, 2021 has also seen some encouraging developments when it comes to female participation in STEM.
According to the 2021 STEM Equity Monitor, there have been real improvements for women's participation within the field, with the percentage of women working across STEM industries increasing from 24% in 2016 to 28% in 2020.
Since 2015 the percentage of women studying within STEM-based fields at university has increased from 34% to 36% in 2019.
Strathcona Girls Grammar, located in Canterbury, Victoria, is one school that is eager to contribute to these positive developments.
The school's innovative 'Digital Futures option' offers girls the opportunity to experiment with coding, robotics, automation and webpage design. VCE VET programs are also offered to senior students, allowing them to gain industry qualifications.
Ross Phillips, Senior Dean of Learning Futures at Strathcona Girls Grammar, said his school's approach to promoting STEM to young women takes into account the complexities of the issue.
"Biology has nearly twice as many female graduates as male graduates, but girls in Physics are outnumbered by three times as many boys. In Applied Computing: Software Development there are ten males to every female," Phillips told The Educator.
"In Victoria, about 20% of students take Physics and this is roughly the proportion of girls taking it at Strathcona. The number of females studying Physics at co-educational schools however can be negligible."
To continue to narrow the gender gap in STEM, Phillips said society needs to focus on making STEM subjects equally welcoming to girls as to boys.
"Female STEM heroes should be celebrated and young women taking these subjects should be highly visible to show others that they won't be alone. We also need to stop the message that these subjects are for boys," he said.
"It's not only the older generations that perpetuate this, but brothers, other students and friends who can be heard spreading these gendered messages."
Another critical factor, says Phillips, is for schooling from an early age to be "value thinking."
"We need young people to understand curiosity over correctness," he said.
"Girls often seem to be conditioned into perfectionism while boys are allowed to be more experimental, and STEM suits explorers."
Are guest speakers perpetuating stereotypes?
Phillips said principals in particular can play an important role when it comes to helping girls better understand the value of STEM education, but cautions that school leaders must consider whether guest speakers are perpetuating stereotypes rather than welcoming girls in STEM fields.
"Celebrating the achievements of female students and past students in STEM is really important, as is providing access to STEM subjects for girls from the earliest years of schooling," he said.
"School leaders should also promote female students' participation in STEM activities and competitions throughout their schooling, as this assists in ensuring STEM is seen as an option for all."
Phillips said that when choosing their VCE subjects, girls should be encouraged to look towards careers in STEM as normal.
"In fact, young women should see areas of STEM currently undersubscribed by females as opportunities to add great value. For this to happen, STEM subjects need to be available, even if they need to run with low numbers at times," he said.
"Leaders need to communicate to students that careers in STEM are diverse, for example, the increasing demand for environmental engineers can be seen to attract more women into engineering."