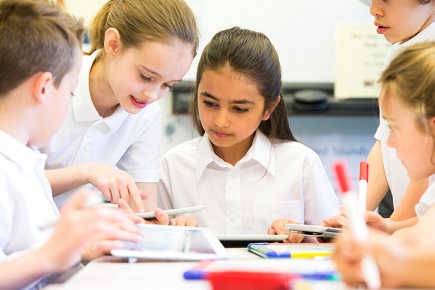 A recent report sounded the alarm on Australia's STEM skills gap, revealing that 75% of employers had difficulty in recruiting suitably qualified or skilled people.
According to the findings of the study, the highest shortage occupations are Technicians and Trades Workers and Professionals, all in STEM fields.
Compounding this issue, data from the Office of the Chief Scientist's 2016 Australia's STEM Workforce report shows that only 16% of qualified STEM population are women. Women also take up just 27% of the total STEM workforce across all sectors.
To help address this issue, more than 500 primary and secondary school students and their teachers are converging at the Girls' Tech Day event in Blacktown today to inspire girls from Year 4-12 to consider a career in STEM.
Hands-on tech activities for students will be presented by Blacktown GHS's 4802 Robotics Team, Defence Force Recruiting, Vodafone, the University of Wollongong (Science Space), TAFE NSW, Amazon Web Services and many others.
Below, The Educator speaks to Rachael Neumann, Head of Startups, Australia and New Zealand at AWS, about Girls' Tech Day, the drivers behind Australia's low female STEM engagement rate and how AWS is helping schools in 2020.
TE: In your view, what are some of the most important elements of Girls' Tech Day?
RN: With the technology skills gap deepening in Australia, and research forecasting that an extra 200,000 technology workers will be needed over the next five years if Australia is to carve out a position as a leader in the global digital economy, it is vital that we focus on upskilling the next generation of the workforce with the very skills that are in demand – cloud computing and artificial intelligence. To remain competitive, organisations need individuals with STEM skills and mindsets to transform and future-proof their businesses. If we are to do this successfully, we need to find pathways that remedy the current imbalance in STEM, because the field needs those from all walks of life. Events like Girls' Tech Day ensure that young Australians, of all genders, and from all backgrounds and communities, are given the opportunity to learn and interact with the technology that will continue to shape the next generation.
TE: What do you see as some of the drivers behind Australia's low female STEM engagement rate?
RN: A career in STEM begins with exposure and visibility to those already working in the STEM fields and having an example to model yourself on and strive towards. If these students aren't seeing someone that looks like them working in these careers, then it is harder for them to imagine themselves in those positions. As an industry, we need to be more proactive in breaking down the barriers and stereotypes of what it means to pursue a career in the industry, and help shed a light on the diverse career paths that goes into working in the STEM fields. Technology is first and foremost a human endeavour - and we need all perspectives and disciplines to be part of the designing, building, and deployment of these technologies. This is why AWS supports initiatives like Young Women Leaders in AI, a program designed to train young women to become local ambassadors around AI, and Girls' Tech Day, a one-day event with the aim of introducing school age girls to the possibility of a career in technology.
TE: In what ways will AWS be working to improve teaching and learning opportunities for Australian schools in 2020?
RN: AWS is committed to helping build the technical skills required to design and improve the future. In order to do this most effectively, training and development needs to be built in from the ground up, which is why supporting secondary and tertiary education institutions is vital. AWS has invested in a range of development programs to help build and develop cloud skills and improve cloud fluency. To name just a few, AWS Academy provides higher education institutions with a free, ready-to-teach cloud computing curriculum that prepares students to pursue industry-recognised certifications and in-demand cloud jobs. AWS Educate is a membership-based program for post-secondary students, educators, and institutions, and AWS EdStart is an educational technology (EdTech) startup accelerator that is designed to help entrepreneurs build the next generation of online learning, analytics, and campus management solutions on the AWS Cloud. We look forward to seeing these programmes grow as they broaden their reach, and of course continue to support important community initiatives like Girls' Tech Day that bring visibility to careers in technology - in all its diverse and exciting forms.