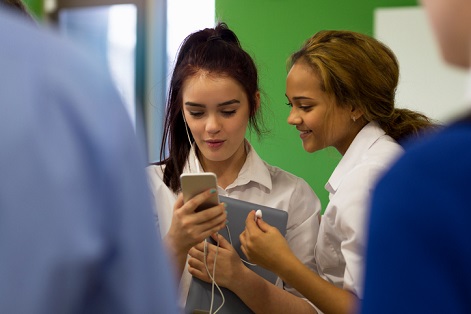 Federal Education Minister,
Simon Birmingham
, has called on Australian schools to ban the use of smartphones in classrooms.
Birmingham told The Sunday Telegraph that while learning to work with technology is essential, phones can be a distraction from lessons and a platform for bullying unless schools have the right policies in place.
"Those running school systems need to lead from the front with firm policies that ensure the problem isn't just left to hardworking teachers and principals," Birmingham said on Sunday.
"Access to phones can be a difficult issue for schools, as it is for parents, which is why clear policies and support to keep distractions out of the classroom are essential."
However,
NSW Secondary Principals Council
president,
Chris Presland
, said the problem is that the inappropriate use of technology in schools is a much more complex problem than meets the eye.
"Even when you start to think through what Minister Birmingham said, you start to wonder: 'are you also talking about banning mobile phones, smart watches, tablets and laptops?'" Presland told The Educator.
"Students and teachers access all sorts of technology, so what we need to be focusing on is educating students and parents about the appropriate use of technology in schools."
Presland said there are many reasons why students need to use phones in the classroom, including understanding digital technologies and assisting with class work.
"Saying that nobody is allowed to use a phone in a school is simplistic and doesn't cut to the heart of the problem," he said.
"Imagine if we were talking about the workplace. If adults were told that they were no longer allowed to bring mobile phones because some people had used them inappropriately, there would be outrage."
On Sunday, Queensland Opposition leader, Deb Frecklington, said she will meet with education and community stakeholders to discuss the merits of banning mobile phones in the state's schools.
"This is all about getting our kids more active and encouraging them to interact face to face, instead of behind screens," Frecklington said.
"As a community, we all need to help our kids develop social skills and understand the risks of online content."
However, Queensland Premier, Annastacia Palaszczuk, ruled out a ban on smartphones in the state's classrooms.
NSW Education Minister,
Rob Stokes
, has been contacted for comment.
Related stories:
Is social media a liability for schools?
Opinion: Smartphones, sexting and sexual harassment