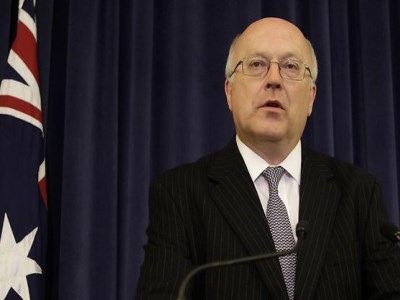 The Government's plan – called the Jihadi Watch Strategy – is aimed at addressing the domestic threat posed by ISIL and other terrorist groups and will help teachers and students spot the early warning signs of anti-social behaviours which may be associated with violent extremism.
Such behaviours can include students drifting from their peers, arguing about ideology or running into minor trouble with the law.
Terrorism experts, government officials and Islamic leaders are holding talks about how the strategy can be implemented into the national curriculum.
"The Government is working with community organisations and other governments around Australia to develop education materials and deliver training to identify and steer individuals away from ideologies of hate," Attorney-General, George Brandis, told the
Sunday Herald Sun
.
"Just as parents and families have gained greater understanding of the dangers posed by online sexual predators, there also needs to be increased awareness of the threat from online terrorist propaganda."
Education Minister, Christopher Pyne, will ask state education ministers to sign off on a plan to have a federal committee develop a "deradicalisation in schools strategy".
Another initiative helping schools recognise and prevent the threat posed by radicalised students is the Australian Multicultural Foundation's (AMF) Community Awareness Training Manual (CATM).
The online program helps teachers, students and the community identify the warning signs of anti-social behaviour.
In April, the AMF's director, Dr Hass Dellal, told
The Educator
that the program would provide schools and their communities with a range of tools to increase awareness about youth radicalisation.
"The program has been designed in a way that can help prevent any anti-social behaviour, whether it's bullying, drug abuse, domestic violence or criminality," Dellal told
The Educator
.
"It can identify the beginnings or behaviours in those areas and act to prevent them."
Professor Greg Barton, from the Global Terrorism Research Centre, said detecting youth radicalisation was not as simple as monitoring social media, nor could it be done by authorities alone.
"It falls back on family and friends because they see what's happening," Barton told the
Sunday Herald Sun
.
"Things said out in the schoolyard or at the local McDonalds are things that are not going to get picked up by expensive technology."