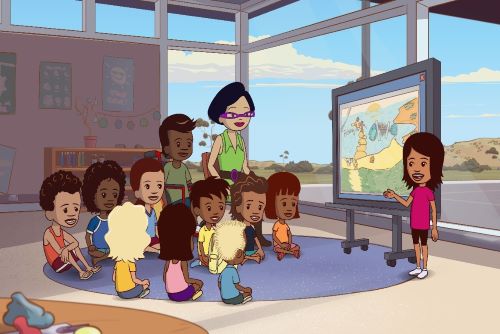 It is important for Aboriginal and Torres Strait Islander students to be able to see themselves, their identities and their cultures reflected in the curriculum.
The Aboriginal and Torres Strait Islander Histories and Cultures cross-curriculum priority aims to address this need, and engage all students in reconciliation, respect and recognition of Australia's First Nations people, but some teachers are yet to include these perspectives in their program.
That's a finding from the Australian Government's National Aboriginal and Torres Strait Islander Curricula Project, led by the University of Melbourne's Professor Marcia Langton AM.
Chief among the reasons why include teacher fears around accidentally doing something wrong or not having enough knowledge. Other reasons teachers had not covered this priority area include having limited capacity to identify quality resources, and a belief that it is primarily addressed within the humanities and social sciences.
To help address this, the Curricula Project is developing a resource package centred around three topics that showcase Aboriginal and Torres Strait Islander cultures – astronomy, fire and water. The resources cover all eight learning areas of the Australian Curriculum except for languages.
The Australian Council for Educational Research also supports teachers in including Aboriginal and Torres Strait Islander knowledge, understanding and skills in their programs with the launch in 2017 of the Little J & Big Cuz television series and curriculum-mapped resources.
Little J & Big Cuz is an animated series featuring the voices of Deborah Mailman and Miranda Tapsell, that follows the everyday lives of two Aboriginal school children as they explore themes of Indigenous identity, connection to country, traditional knowledge and cultural practices. The series received the 2018 Logie Award for Most Outstanding Children's Program and is available to stream free online.
Each episode is accompanied by online resources including games for children, an ebook and suggestions of teaching approaches for early childhood and junior primary educators. More than 300 Little J & Big Cuz education resources are available in an open-access database that enables teachers to filter by learning area, year level, theme and stage of inquiry to create lesson plans.
Using Little J & Big Cuz in the classroom
Case studies developed as part of an evaluation of the success of Little J & Big Cuz, commissioned by Dusseldorp Forum, show that the series and teaching resources were well received, adding value to educators' existing programs.
At Adelaide's Marion Primary School, a team of four teachers incorporated the Little J & Big Cuz series into the teaching and learning programs for their 82 junior primary students, six of whom identified as Indigenous. The teachers incorporated the series into their curriculum as a key part of their Social Emotional Learning program as well as in areas such as language and geography.
At St Augustine's School in Far North Queensland, Prep teacher Jo Brooks incorporated Little J & Big Cuz into her English, geography and health program. Episodes were used as a writing stimulus to develop students' written language, and to support the teaching of phonics, new words and sounds. The different environments in the series, such as the school, house, beach and desert, were used as further teaching points. Ms Brooks found the resources to be a valuable strength of the series, providing engaging oral language teaching opportunities that her students could relate to.
Exploring Indigenous languages
Educators have praised the use of both Standard Australian English and Aboriginal English in Little J & Big Cuz, noting that the discrete 'code-switching' by the main characters when at home, at school and on country provides practical examples for explicit teaching. The use of language also resonated with many Aboriginal and Torres Strait Islander children who took part in the evaluation. Children liked the way the family talked to each other, and how this was different to how they talked at school. Several children commented that the character of Nanna 'talks like my mum'.
A number of episodes from Little J & Big Cuz have been re-voiced into Indigenous languages. Currently, nine episodes are available to stream on SBS On Demand in a selection of six Indigenous languages; Arrernte, Pitjantjatjara, Djambarrpuyngu, Yawuru, Walmajarri and palawa kani. Subtitled in English, these episodes give children exposure to the differences between the sounds of the Indigenous language and the English language.
The Australian Curriculum includes a framework for Aboriginal Languages and Torres Strait Islander Languages, the study of which must necessarily include learning about Aboriginal and Torres Strait Islander histories and cultures. The framework notes that, through helping to re-awaken Aboriginal and Torres Strait Islander languages, students develop their understanding of Australia's history and their capacity to effect positive social change.
Ultimately, students will benefit from learning that contemporary Aboriginal and Torres Strait Islander communities are strong, resilient, rich and diverse.
Break out box: 'Have a go'
Consider the spaces in your indoor and outdoor environments. What key aspects of Aboriginal and Torres Strait Islander knowledge and cultures are relevant to these spaces? How can these aspects build on current understandings and create new learning opportunities with children, families and community?
For inspiration, check out the resources on the theme 'Place' at https://www.littlejandbigcuz.com.au/resources