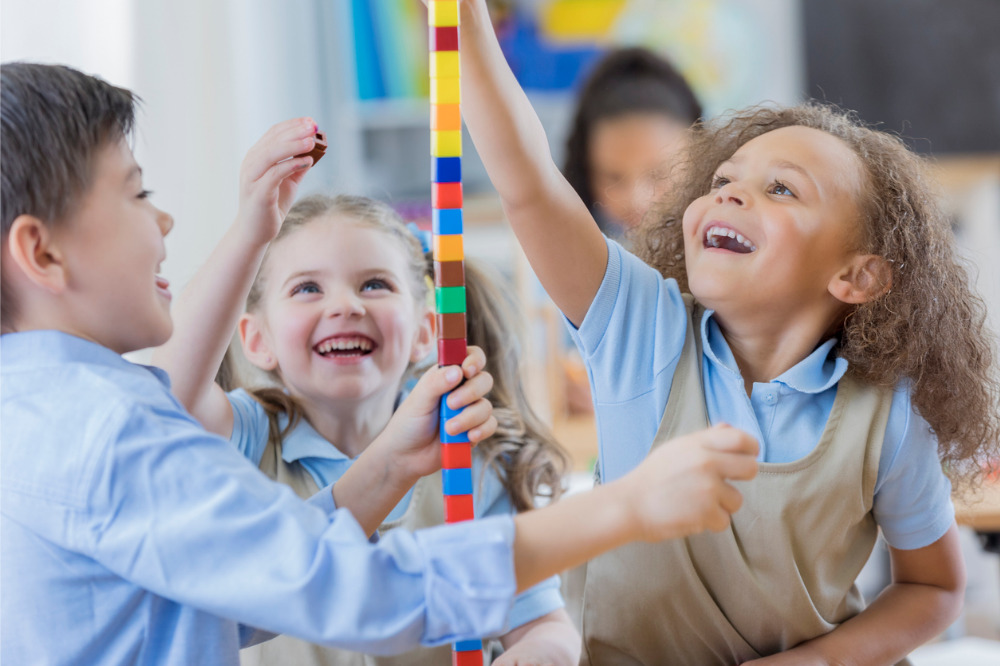 Although creativity and STEM may seem an odd classroom coupling, latest research demonstrates how the two are being successfully entwined to engage young children's problem-solving abilities.
A newly released book, Children's Creative Inquiry in STEM, edited by Associate Professor Karen Murcia and Sinead Wilson of Curtin University, Associate Professor Coral Campbell of Deakin University and Mathilda Joubert, uses national and international examples of quality practices in schools and early years centres to encourage a re-imaging of STEM and playful learning.
"The importance of creativity in children's learning and development should be recognised, valued and nurtured. Creativity doesn't just belong in the ARTs; it is core to STEM disciplines which are highly creative in nature," Assoc Prof Murcia said in a media release shared by MCERA.
"Children's engagement and problem-solving abilities are enhanced by embedding creative teaching into STEM learning environments."
Assoc Prof Murcia says the book draws on research from diverse cultural settings to build a strong case for seeing the creativity in children's play and inquiry learning and provides evidence and insights that should inform how we move into the future of creative learning and development for young children.
"The selected international research presented in the book, was conducted in a wide range of early and primary years learning environments where new knowledge emerged and recommendations were made for expanding our engagement with children's creativity and STEM inquiry," she said.
Assoc Prof Campbell acknowledges that "implementing STEM education raises many questions and there continues to be a range of diverse perspectives on what constitutes STEM and effective early years practice in both the literature generally and also within the chapters of this book."
"Evidence is drawn together of children exploring everyday problems, seeking solutions, and playfully imagining possibilities," Assoc Prof Campbell said.
"Children from a range of countries were observed applying concepts from multiple STEM fields as they were thinking creatively, generating ideas, solving problems, finding alternative solutions, or constructing a new and different insight."
Assoc Prof Campbell said the book researchers present their investigations, evidence and key findings as to how children think creatively and learn through cross-disciplinary STEM inquiry approaches.
"Creativity is viewed as a everyday process displayed in inquiry learning that can be experienced by children through free play or play-based learning, guided or led by early years educators, teachers and families," Assoc Prof Campbell said.
"Collectively, the authors explore a range of teaching and learning practices that impact children's creativity, including project-based, arts integration, play-based, engineering design, and nature-based learning."
The authors also demonstrate how the challenges of curriculum, assessment, procedural knowledge limitations, resourcing, teacher training and conceptual understanding of creativity can be addressed."
The chapters are grouped into four parts which focus on connecting themes: Creative Dispositions and Processes, Characteristics of Creative STEM Learning Environments, Creative Approaches to Teaching STEM and Digital Creativity in Children's STEM Learning.
"Three key ideas emerge throughout the chapters:
Children's creativity is playful: it draws on curiosity, involves imaginative possibility thinking and is integrated into their everyday living and learning.
Children's creativity is socially constructed, as it involves dialogic conversations, questioning, and making connections whilst acting and interacting with personal agency.
Children's creativity involves problem solving, where the focus is on children experimenting, thinking divergently, reasoning and expressing meaning in their pursuit of solutions and new knowledge."
As the research shows, "STEM disciplines are highly creative in nature and children's engagement can be enhanced by embedding creative pedagogies into learning environments."
"Ultimately, we are celebrating children's creativity, raising educators' awareness and ingenuity to nurture children's creative thinking in diverse settings," Assoc Prof Murcia said.
"In this fast-changing world, learning to think and act creatively, learning to generate novel solutions that have value to society, and learning to solve problems that haven't yet been invented have become a basic human right that all children deserve."
The original version of this article appeared in a media release published by MCERA.