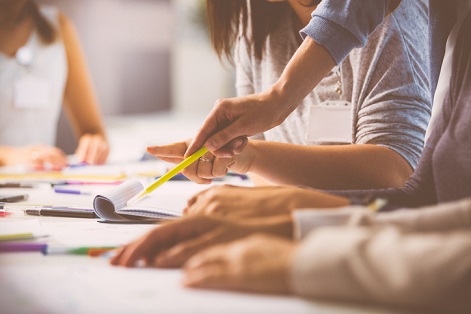 Aside from encouraging students to consider picking up a trade or pursuing a career in STEM, the education sector and governments are providing young people with venues to explore entrepreneurship as well.
The University of Adelaide, in partnership with Sony Pictures television's Shark Tank Australia and MIE Lab, created the 'Shark Tank eSchool' which gives Years 11-10 students a chance to develop and pitch innovative solutions to real-world problems.
Prior to the competition, these students would have to complete semester-long entrepreneurial skills training sessions. Teachers are also given a two-day workshop at the University to help them deliver the program in their own schools.
The initiative has received support from the South Australian Education Department, Lot Fourteen, Renewal SA, Future Industries exchange for Entrepreneurship and energy company Santos.
"Traditional jobs are disappearing, paving the way for opportunities in new and different sectors for individuals who need to be highly employable," Andrew Bensley, MIE Lab's managing director, said.
"That is, have skills that allow them to work in a rapidly changing environment. The Shark Tank eSchool program equips students with the right skills to be creative problem solvers so that they are able to adapt to a forever changing employment landscape."
SA Education Minister John Garner said that developing the entrepreneurial mindset of young people helps prepare them for success in whatever career they decide to pursue in the future.
"Students who successfully develop an entrepreneurial mindset will be well placed to start their own businesses, but importantly they will also be well positioned to contribute value in organisations that employ them, by creatively solving problems and working innovatively to develop new ideas," he said.
"The State Government is delighted to be working with the university sector to promote entrepreneurial education, and I congratulate all the partners involved in making the Shark Tank eSchool project such a success."
Winning pitches
The recently concluded Shark Tank eSchool competition awarded five teams cash prizes, marketing consultancy opportunities and hundred-dollars' worth of products from Switched on Kids. This year, 136 teams or 525 students from schools all over South Australia took part in the competition.
Two of these teams pitched environment-related entrepreneurial ideas.
Team Aquacy from Eastern Fleurieau School won the Santos (STEM) prize for their ide on eliminating toxic algae blooms in waterways through an ecofriendly water tablet while team Drop from Wilderness School developed a non-plastic water bottle packaging which can be recycled into office paper.
Another two pitches targeted upskilling its users. Taylor Tran from Wilderness College won the Ingenuity prize for developing the Skillbot app, which gamifies students' learning experience for basic life skills which range from cooking to finance.
The other team, which hails from Woodcroft College, won the community prize for Skillsbased, which provides high school students short courses on practical kills to help them secure part-time work.
Students from Henley High School developed the Munchbox app to help parents pick healthy and ready-to-go school lunches. The app tracks what the student eats as well has how much calories they take in. A week's worth of lunch packs chosen by parents are delivered to their door every Sunday.