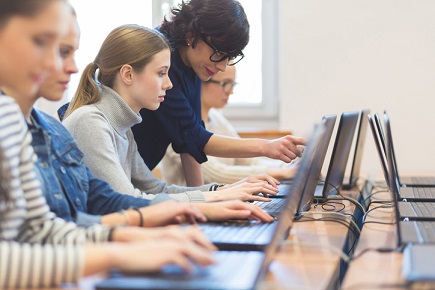 Amid the changing work landscape, pressure is on both educational institutions and students to keep pace with the changing demands of employers.
In an article published in The Conversation, Kate Torii, a policy analyst at Victoria University's Mitchell Institute, said students need to be exposed in the world of work and build connections with professionals – not just learn the tricks of the trade firsthand.
In July 2018, the Mitchell Institute released a report recommending that all students have work experience before they finish schooling as "schools alone cannot foster all of the skills and capabilities that young people need to find success in work and life."
The study further encouraged more partnerships between schools and industries to smooth out the transition from schools to careers, address workforce gaps, and improve community ties.
"Varied opportunities to engage with the world of work, through career talks, mentoring, and excursions to job sites can be valuable from primary school through to secondary school, particularly for students at risk of disengagement," Torii said.
"Early exposure is critical to ensure that students can make informed decisions about future career pathways."
Government intervention recommended
State governments should also take part in school-industry partnerships to make sure that their efforts work, according to the Mitchell Institute's report.
One way the government can participate is to monitor if the school-industry partnerships work or if these have gaps in execution. State governments should also make sure that work experience partnerships are a priority in schools and are receiving the needed time and resources to succeed.
Lastly, state governments should also remove barriers to improve ties between schools and industry partners, such as clearing regulatory and governance issues, helping find partners and settle mutual needs between institutions.
Students taking charge
But despite existing work experience programs in schools, some students still find their experience to be lacking.
Hannah Ahn and Bagavathy Menon, both Year 12 students at Chatswood High School, might have just found a solution to this problem.
After experiencing a disappointing Year 10 work experience, Ahn and Menon founded Yakka, an online platform which helps connect students with businesses for their work experience.
Through Yakka, companies can find the most suitable student candidate from a pool of applicants. Students can also find the kind of work experience they're after.
Prior to the creation of Yakka, both students took part in Generation Entrepreneur's iEntrepreneur incubator program in July 2018 where they received training as well as funding to materialise their idea.
So far, Ahn and Menon have already tied up with nine organisations to offer 14 work experience opportunities to secondary students. Yakka itself was already pitched to over 300 people.
Though fuelled by their lacklustre work experience, Menon said she was also inspired by their school's curriculum.
"Consequently, I am fully engaged in the business sphere and am able to draw from my understanding of legal frameworks to contribute to Yakka's ongoing success," Menon said.
Ahn, for her part, said she was able to develop Yakka through her background in volunteering and freelance brand design work.
Chatswood High School Principal David Osland noted that both students have taken part in various entrepreneurial activities over the past two years.
"Students at Chatswood High School begin their journey towards being young entrepreneurs through classes in the junior school where they learn design thinking, critical and creative thinking, team work and communication skills," Osland said.
The school's social science faculty handles a variety of programs to expose students to entrepreneurial activities such as project-based learning initiatives for Year 8 students, the Australian Business Week for Year 10 and the $20 Boss School Program.
"This grounding is supported by our partnership with Generation Entrepreneur and opportunities such as [Menon's] UBS scholarship which allows students to gain industry experience while still at school," Osland said.