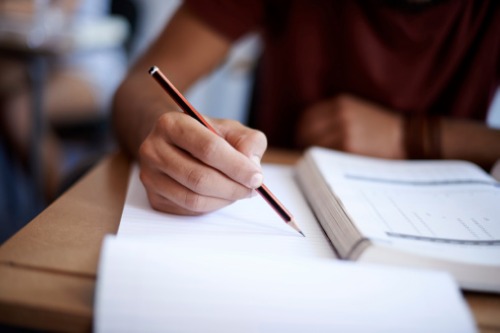 On Thursday, 75,000 NSW students sat the first day of their Higher School Certificate.
Starting with English yesterday, 123 written exams will be held during the exam period, including the examination of 16 new syllabuses in English, Mathematics, Science and History.
Last year, the NSW Government announced major changes to the exam's minimum standard in a bid to make it less stressful to students.
Under the changes, which take effect from 2020, all Year 12 students in NSW must reach a minimum standard of literacy and numeracy to receive their HSC. This means that a Year 9 student sitting the exam in or after 2020 will need to meet a minimum standard of literacy and numeracy to receive the certificate.
The changes were brought in by the government to improve the reading, writing and numeracy outcomes of students, which have been experiencing a decline in recent years.
Prior to the changes, there had been concerns by some education stakeholders and groups that the exam is losing its importance.
However, one expert says there is a strong case to keep the HSC, adding that students who sit the test will have a better chance of success post Year-12.
'HSC is more valuable now than in the past'
Professor Jim Tognolini, director of the educational measurement and assessment hub in the University of Sydney's faculty of education and social work, says two of the main purposes of the HSC are secondary exit and tertiary entrance.
"In terms of secondary exit, the HSC provides students with an official record of achievement that attests to what it is they know and can do – and how well they can do it – in the various subjects they have chosen, at the end of 12 years of schooling," Professor Tognolini told The Educator.
"The importance of such a credential is not dwindling. In fact, it is significantly more valuable than perhaps it has been in the past."
Professor Tognolini said that as the current HSC subjects are reviewed and updated, a broader range of 21st century skills will be included in the standards, and the performance descriptions will be even richer and more valuable to the broader education and business communities.
The second purpose that the HSC serves, he says, is tertiary entrance.
"The HSC examination results are used to produce a rank order of student performance [ATAR] that can be used by universities to select students into competitive academic programs," Professor Tognolini explained.
"There are a number of reasons why universities use such an index."
One reason, says Professor Tognolini, is that students have to make decisions very soon after the HSC examinations about who can gain entry into "competitive" academic programs.
"There has been significant research carried out that indicates that a score comprising a range of subjects that have been studied at school is one of the better predictors of success at first year university level," he said.
"It is very important that students who wish to gain access to universities prepare themselves well in the subjects that they choose to do at school."
Professor Tognolini said this is just as important for students now as it was in the past.
So, what makes people suggest the HSC is not as important?
The difference now, says Professor Tognolini, is that universities have a large number of alternative routes for students to enter programs.
"This is actually a strength of the current tertiary selection process," he said.
"It means that students who have not gained access to universities through the direct entry process have not failed."
Rather, Professor Tognolini notes, they can find alternate pathways into the program either by gaining entry to less competitive courses and then transferring at a later stage or entering as a mature-age student through an alternate entry program.
"The reason why I don't think that this diminishes the importance of the HSC is that whichever way students gain entry they will have a lot better chance of success in their university studies, other post-secondary studies or work if they have worked hard and prepared well for their HSC," Professor Tognolini said.
'Your results are not tattooed on your forehead forever'
Sydney University Vice-Chancellor and Principal Dr Michael Spence AC has had 4 children sit HSC exams.
Dr Spence said that while it is important that students aim to do their best in the final years of school, it is also important to keep perspective.
"Sometimes, parents and students forget these exams will simply measure what you have learned over the last two years," he said.
"Your results are not tattooed on your forehead forever. They determine what you can do for the first year of university, but students should bear in mind there are many pathways into university and your ATAR is just one route."
Dr Spence said that whatever the result, students have the right to be proud if they have worked hard.
"When it comes time to choose your degree, remember ATARs are not frequent flyer points and you don't have to use them all at once in the fear they will be 'wasted'. Study the degree you want to, even if you get 99.95."