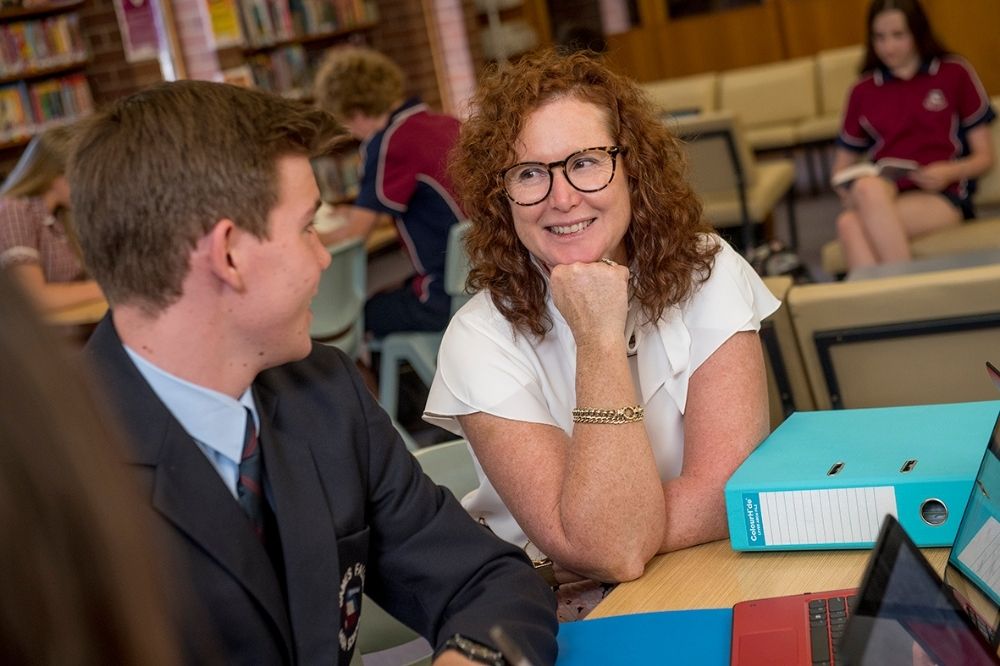 At James Fallon High, staff and students live and breathe their school's motto: 'Together We Succeed'.
Located in Albury NSW, the school and its rich and diverse learning community harbour a collective sense of pride in their school's history, culture, and indeed the success it has achieved against some tough odds (but more on that a bit later).
James Fallon High is locally renowned as the school of choice for local Aboriginal families, with 147 Aboriginal or Torres Strait Islander students enrolled. The school also has a strong focus on inclusive learning, supporting 97 students with a disability confirmation, including 387 on the NCCD register. It also embraces all manner of cultures, with 84 students speaking another language in addition to English.
Like all most schools, James Fallon High had its share of complex challenges during the COVID-19 pandemic, but with the help of its visionary leadership team it has been moving full steam ahead with some truly exciting and transformative work inside its classrooms. It is one of 50 other schools currently employing the 'Big Picture Australia Design' model, which promotes a departure from traditional 'appointment learning' in which all students learn the same things according to a fixed timetable inside the four walls of a school.
On Friday 3 December, the school's journey took an exciting twist in its 60-year history when it was named Regional School of the Year at the Australian Education Awards.
Below, The Educator speaks to principal Jenny Parrett about the programs and people that underpin educational excellence at the school, and how it intends to make its mark felt in regional education well into the future.
TE: Can you tell us a bit about your school's culture and direction, and what you believe makes it such a great school?
James Fallon HS is a truly comprehensive rural regional school, supporting all manner of young people and their families. For Albury, a place with two postcodes, the diversity of James Fallon High School is extensive. Our vision is to live our motto, every day. Its vision is to personalise learning for every child, as this is what the school believes every young person deserves. Teaching and learning is personalised, so that every student is known, valued and cared for. Points of difference include the opportunities for personalising learning. Underpinning classroom practice is a diverse and specialised curriculum. With 8 classes of Diverse Learning (Support Classes), a Big Picture Academy, intensive language and refugee student support groups, an extensive subject selection offering sharing curriculum with the two other Albury high schools, there is outstanding opportunities for students to pursue their interests.
TE: Drawing on James Fallon High School's experiences over the last 12 months, what were the greatest challenges the school faced, and what strategies were put in place to address and overcome these?
The city of Albury has been impacted since March 2020 when the first wave of COVID 19 cases impacted the nation. While the city had 11 known cases, the community was locked down until May. In June, the Victorian state entered its first lockdown, which went until the 23rd November. During this period, there were times of hard closures (2km radius from the border) to a larger "border bubble". Operationally, the community had employment, local business, education, health services and social support services significantly interrupted for 5 months. In education, Victorian students in the HSC class of 2021 were not permitted to travel across during the hard border closures, and neither were Victorian staff, unless they taught HSC 2020 classes. The city has also been impacted by several Victorian snap lockdowns, where staff and students were not permitted to travel across. The most significant of these was in March 2021, where there was a snap lockdown involving at least 17 staff at James Fallon HS. The rolling disruptions of NSW lockdowns have continued since July this year, with Level 4 school restrictions in place from 13th August to 10th September. The Albury LGA restrictions were lifted for four school days at the end of Term 3, with an LGA lockdown occurring from Friday 17th September to 24th September.
Albury was essentially the "crash test dummy" for the new normal in NSW during October of this year. There was a significant, contemporary spread of COVID cases in Albury Wodonga. This data set relative to Sydney modelled data like this: From Monday 25th October, Albury had 115 cases (0.2% of our population), which equated to 12467 cases in Sydney in a similar time as a percentage of population.
The impact on the community included the following:
24 schools in Albury Wodonga were in non-operational periods since October 15.
Testing sites were closed every day because they reach capacity testing by lunchtime and people are driving to Yarrawonga and Corowa to be tested
At least 30 public/retail sites in Albury and similar numbers for Wodonga underwent contact tracing and isolation/testing for visitors
50 Congolese families had infections of COVID 19. At least one third of this community are positive cases of COVID infections. The infection in our vulnerable communities includes our Nepali/Bhutanese families and our Aboriginal families.
James Fallon High School was non-operational on Friday, 22nd October, and Monday 25th October. 193 students were in isolation as close/casual contacts, and 43 staff were absent Tuesday 26th getting tested as casual contacts, 37 staff absent Wednesday 27th. Minimal operations will need to be run through the period of testing and isolation. Of the current 9 known cases at JFHS, there were 3 current positive COVID cases in the HSC class of 2021. A survey of the students was conducted. The feedback from most students was the anxiety around sitting in an examination room where there could be a potential COVID case, being infected and taking home the virus to their families because of doing their examinations.
The school had to be incredibly agile all through the last two years. In the first wave, we used a hybrid method of booklets and online learning, with a check in system for teachers to call families. This was called "roll call" and it involved every teacher touching base with 10 families every week. This was, paradoxically, a wonderful opportunity for community contact with every member of our school. In fluidly moving between various school restrictions, there have been challenges, but also opportunities. The school used the opportunity to move to a new learning management system, Compass, and used the learning task component in the 2021 remote learning period. The school has utilised a range of digital platforms, but also looked at ways to do things differently. Cohort assemblies, graduations, and logistical changes have all been a part of this. One of the ways our school has utilised the changes to university landscapes is to firm up our early entry schemes through our partnerships. In the HSC class of 2021, 55 of 78 students gained early entry to university or tertiary courses before any examination was sat. The other students had gained employment, traineeships, and gap year opportunities before the examinations. Each Year 12 student had their Year 13 plans developed for This also included at least 12 scholarship offers to students to facilitate study.
TE: Australia's first Regional Education Commissioner was recently appointed. Do you think the appointment will help tackle the big issues that regional schools are facing, and if so, how?
Being rural is an identity, and the lens on rural issues requires one that honours the rural. JFHS is a proudly public, rural school. The metrocentric lens is something that can lend itself to a deficit discourse on matters rural. While there are challenges, there are phenomenal strengths in living, learning, and working in rural communities.
I am currently a doctoral candidate with the UNSW, and my passion is to consider unique ways to consider the rural "gap" in education. My project is to explore how Big Picture learning works in rural and regional schools. I love this work and study with UNSW. In my research, I see many examples of the disconnect between the urban and the rural in Australia. Universally, the literature states that learning outcomes, employment opportunities, health outcomes, and family expectations are all lower than in our urban spaces. The Halsey (2018) review recommends in several areas where there is work to be done - in student achievement, teacher attraction and retention, school leadership, school completion rates, entrepreneurship, community connections, technology, and equity of access. Staff shortages, for example, are dire in rural areas – potentially, this is because those in teacher degree programs have no awareness of how fantastic living and working in rural Australia is.
In the body of knowledge on rural education in Australia, I have discovered a strong theme – those new ways of thinking about rural education that are strengths based, away from urban metrics, contextual and innovative – might be a way forward for the Regional Education Commissioner. It certainly is terrific to see attention brought to rural Australia, and if the work is undertaken with respect to rural Australia being different rather than deficit, that would be wonderful.
TE: In what ways will James Fallon High School seek to build on its success in 2022, and what kind of year do you expect 2022 to be for the school and for regional education more broadly?
James Fallon High School has a strategic improvement plan that spans the next three years. The strategic directions are student growth and attainment, collaboration and professional growth. The goals for 2022 include: whole school professional learning in classroom culture, continuing our journey in embedding consistent, trauma informed pedagogical practice; continuing to develop architecture to support our pedagogy, expand our offerings for our Aboriginal students through a partnership with Clontarf, and supporting our school community in coming back through our school gates, after COVID.