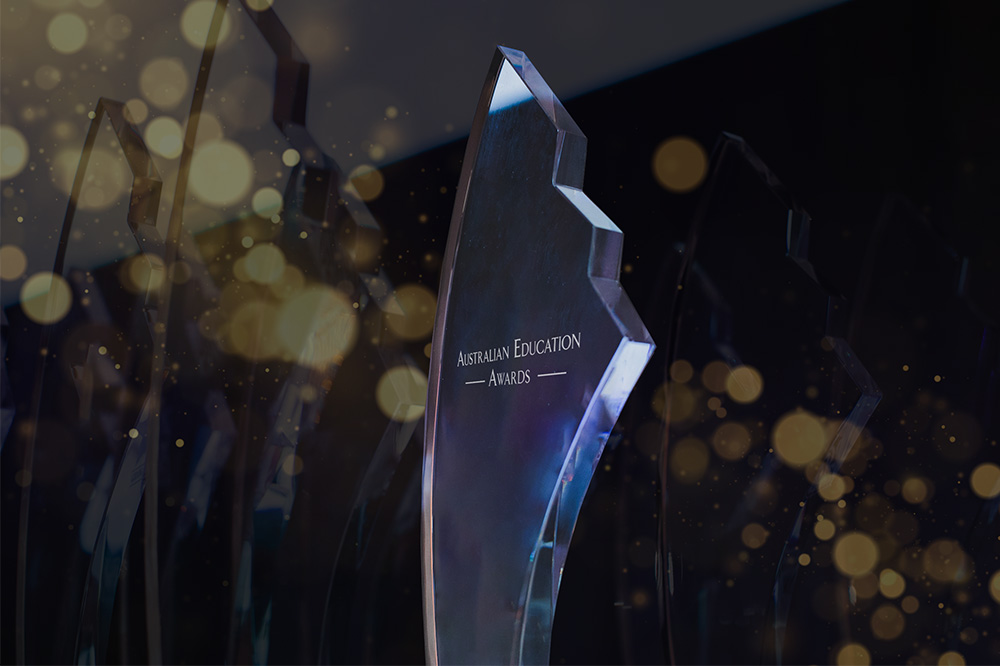 On 3 December, hundreds of Australia's education elite from across the country converged virtually for the fourth annual Australian Education Awards where The Educator revealed the schools and individuals who are driving positive change across the Australian education landscape.
The tireless work of principals, deputies, department heads and teachers was recognised across 28 categories, celebrating the tireless work that education professionals have done during another year of disruption.
These included Australian School Principal of the Year, sponsored by anzuk Education; Best Use of Technology, sponsored by Box of Books; Secondary School of the Year (Government), sponsored by Education Perfect; Best School Strategic Plan, sponsored by PeopleBench; Australian School of the Year, sponsored by Tes; and Primary School Teacher of the Year (Non-Government) and Primary School Teacher of the Year (Government), both sponsored by Teachers Mutual Bank.
The much-anticipated ceremony began at 17.00pm with introductions from The Educator's Awards sponsors and MC for the evening, Channel Nine's Belinda Russell, before the awards ceremony kicked off, revealing the who's who of educational excellence in 2021.
Without further ado, here are the winners of the Australian Education Awards 2021:
SCHOOL AWARDS
PRIMARY SCHOOL OF THE YEAR – GOVERNMENT
Winner: Rochedale State School - an IB World School
Excellence Awardees
Bandiana Primary School
Granville Public School
Ingleburn Public School
Ironside State School
Margaret Hendry School
Prospect North Primary School
Tamborine Mountain State School - Independent Public School
PRIMARY SCHOOL OF THE YEAR – NON-GOVERNMENT
Winner: Haileybury
Excellence Awardees
Canberra Girls Grammar School (Junior School)
Knox Grammar Preparatory School
Living Faith Lutheran Primary School
Oakleigh Grammar Junior School
Ormiston College
Snowy Mountains Grammar School
St Edward's Primary School, Tamworth
EDUCATION PERFECT SECONDARY SCHOOL OF THE YEAR – GOVERNMENT
Winner: Albert Park College
Excellence Awardees
Ashdale Secondary College
James Fallon High School
Kurri Kurri High School
Marsden State High School
Maryborough State High School
Southport State High Independent Public School
Templestowe College
SECONDARY SCHOOL OF THE YEAR – NON-GOVERNMENT
Winner: Ormiston College
Excellence Awardees
Ballarat Clarendon College
Canterbury College
Faith Lutheran College - Plainland
Kennedy Baptist College
St Clare's College, Waverley
St Joseph's Nudgee College
St Margaret's Anglican Girls School
BOARDING SCHOOL OF THE YEAR
Winner: Knox Next Generation Boarding
Excellence Awardees
Clayfield College Boarding House
Immanuel College
St Hilda's Anglican School for Girls (Perth)
St Ursula's College Toowoomba
The Hamilton and Alexandra College
Toorak College
Toowoomba Anglican School
REGIONAL SCHOOL OF THE YEAR
Winner: James Fallon High School
Excellence Awardees
Kangaroo Island Community Education
Saint Stephen's College
Snowy Mountains Grammar School
St Andrew's Anglican College
St Patrick's College Townsville
The Rockhampton Grammar School
The Scots School Albury
SPECIAL EDUCATION SCHOOL OF THE YEAR
Winner: YarraMe School: Centre of Expertise
Excellence Awardees
Glenallen School, Glen Waverley, Victoria
Granville Public School - Special Education Support Unit
Marsden State High School - Inclusion Unit
St Lucy's School, Wahroonga
PEOPLEBENCH BEST SCHOOL STRATEGIC PLAN
Winner: Ipswich Girls' Grammar School including Ipswich Junior Grammar School
Excellence Awardees
Bellbird Park State Secondary College
Brigidine College Indooroopilly
Canberra Girls Grammar School
Canterbury College
Melaleuca Park Primary School
St John's Anglican College
St Margaret's Anglican Girls School
BEST STUDENT WELLBEING PROGRAM
Winner: Haileybury
Excellence Awardees
Brighton Grammar School
Caringbah North Public School
Ipswich Girls' Grammar School
Loreto College Marryatville
Orange High School
Ravenswood School for Girls
Stuartholme School
BEST REMOTE LEARNING PROGRAM
Winner: Haileybury
Excellence Awardees
Bandiana Primary School
Good News Lutheran School
Santa Sabina College
Siena College
Southport State High Independent Public School
St Paul's Lutheran Primary School
The Hamilton and Alexandra College
BEST PROFESSIONAL LEARNING PROGRAM
Winner: Marsden State High School
Excellence Awardees
All Saints' College, Perth
Bellbird Park State Secondary College
Brighton Grammar School
Loreto College Coorparoo
Southport State High Independent Public School
Trinity College (SA)
Xavier College - TORP Program (Teacher Observation and Reflective Practice)
INDIVIDUAL AWARDS
PRIMARY SCHOOL PRINCIPAL OF THE YEAR – GOVERNMENT
Winner: Dr Keith Graham OAM, Rochedale State School
Excellence Awardees
Brendan Bicknell, Guthrie Street Primary School
Damian Johnson, Ironside State School
Fran Waterman, Yarrunga Primary School
Georgina Daniel, Park Orchards Primary School
Jason Smith, Tamborine Mountain State School
Megan Manson, Canobolas Public School
Nicole Wade, Campbellfield Public School
PRIMARY SCHOOL PRINCIPAL OF THE YEAR – NON-GOVERNMENT
Winner: Rhonda Robson, St. Andrew's Cathedral School
Excellence Awardees
Bill Garland, Canterbury College
Catherine Oehlman, The Nature School
Kiri Pearce, Enkindle Village School
John Spradbrow, Holy Family Primary School Emerton
William Wallace, Golden Grove Lutheran Primary School
Zeina Chalich, St Francis Xavier's Catholic Primary School Arncliffe
SCHOOL PRINCIPAL OF THE YEAR – GOVERNMENT
Winner: Kylie Steinhardt, Marsden State High School
Excellence Awardees
Brett Moore, Ashwood High School
James Kozlowski, Endeavour Sports High School
Lisa Holt, Rosebud Secondary College
Philip Honeywell, Newcomb Secondary College
SCHOOL PRINCIPAL OF THE YEAR - NON-GOVERNMENT
Winner: Stuart Marquardt, Lindisfarne Anglican Grammar School
Excellence Awardees
Brett Webster, Ormiston College
Chris Ivey, St. Andrew's Anglican College
David Shepherd, Ballarat Clarendon College
Dr Peter Britton, Ipswich Girls' Grammar School including Ipswich Junior Grammar School
Kiri Pearce, Enkindle Village School
Michelle Carroll, St. Catherine's School
Ros Curtis, St. Margaret's Anglican Girls School
Simon Herd, Medowie Christian School
DEPARTMENT HEAD OF THE YEAR
Winner: Paul Foley, Loreto College Marryatville
Excellence Awardees
Adam Nahal, Australian International Academy - Melbourne
Damien Meunier, Haileybury
Debbie Bachmann, Santa Sabina College
Luke Adams, St Philip's Christian College Cessnock
Kelli Chapman, St. Patrick's College Townsville
Samantha Wyatt, Trinity College (SA)
Therese Turner-Jones, ASCHAM
TEACHERS MUTUAL BANK PRIMARY SCHOOL TEACHER OF THE YEAR – GOVERNMENT
Winner: Georgia Moisidis, Edensor Park Public School
Excellence Awardees
Benjamin David Gould, Woodland Grove Primary School
Dannielle McFarlane, Brassall School
Gemma Triscari, Caulfield Junior College
Jennifer Phani, Department of Education NSW
Kim Clarkson, Red Hill Consolidated School
Tina Burrows, Humpybong State School
Wendy Goldston, Frenchville State School
TEACHERS MUTUAL BANK PRIMARY SCHOOL TEACHER OF THE YEAR - NON-GOVERNMENT
Winner: Claire Cox, Ormiston College
Excellence Awardees
Anita Roy, PLC Perth
Katrina Russell, St Paul's Lutheran Primary School
Lauren Forsyth, Lutheran School Wagga Wagga
Lucardia Moulton, St. Margaret's Anglican Girls School
Nathan Croft, Lindisfarne Anglican Grammar School
Shanine Collavino, Saint Stephen's College
Renee Wathen, Tarrington Lutheran School
Tran Mirciov, John Paul College
SECONDARY SCHOOL TEACHER OF THE YEAR – GOVERNMENT
Winner: Bahia Malas, Blakehurst High School (former)
Excellence Awardees
Christos Halkidis, Homebush Boys High School
Claire Elizabeth Brock, Ayr State High School
Emily McLachlan, Chatswood High School
Gail Smith, Frank Partridge VC Primary School
Gary Collins, Bellbird Park State Secondary College
Nicole Palacios, Marsden State High School
Tracey Gavenlock, Kurri Kurri High School
SECONDARY SCHOOL TEACHER OF THE YEAR - NON-GOVERNMENT
Winner: Andrew Rogers, St. Mark's Anglican Community School
Excellence Awardees
Alysia Neirinckx, St. Phillip's Christian College Cessnock
Catherine Spurritt, Whitefriars College (former Avila College)
Ellen Moffatt, Carey Baptist Grammar School
Lakshmi Mohan, Clayfield College
Sam Cleary, Saint Stephen's College
Nick Gillin, Canterbury College
Peta Raftery, Ormiston College
Zachary Gomo, Bialik College
EDUCATION RISING STAR OF THE YEAR
Winner: Holly Millican, South Grafton High School
Excellence Awardees
Hannah Platt, Bellbird Park State Secondary College
Lauren Holding, NSW Department of Education - West Wallsend High School
Liam Bassett, Mentone Grammar School
Markus Munday, Beaconhills College Pakenham
Thomas Knauth, Stanthorpe State High School
Harriet O'Donnell, St. Andrew's Cathedral School
Sophie Sharp, Tarrington Lutheran School
Steffany Mylonas, Redeemer Lutheran College
Stephanie Browning, Southport State High Independent Public School
Tabitha Southey, Canterbury Girls' Secondary College
CURRICULUM AWARDS
BEST CO-CURRICULAR PROGRAM
Winner: The Scots School Albury
Excellence Awardees
Canterbury College
Firbank Grammar - Outdoor Education
Flinders Christian Community College - Tyabb Campus, Agriculture and Horticulture program
Newman College - Problem Solve It Partnership Immersion
Ormiston College
Santa Sabina College Co-Curricular Program
Toowoomba Anglican School - Performing Arts
BEST STEM PROGRAM
Winner: Ashdale Secondary College
Excellence Awardees
Aurora College Stage 3
Belgian Gardens State School
Firbank Grammar Junior School Brighton
Good News Lutheran School
Haileybury
Parramatta Marist High School
Santa Sabina College
BOX OF BOOKS BEST USE OF TECHNOLOGY
Winner: Ormiston College
Excellence Awardees
Genazzano FCJ College
Lindisfarne Anglican Grammar School
Maitland Grossmann High School - Social and Emotional Learning (SEL) program
Snowy Mountains Grammar School
Southport State High Independent Public School - eLearn Digital Curriculum
St Michael's Grammar School - 'Mr Chips' - Student Profile Digital Dashboard and Intelligent Agent
Trinity College (SA)
INNOVATION IN CURRICULUM DESIGN
Winner: KKHS Staged Learning
Excellence Awardees
Brisbane South State Secondary College
Cannon Hill Anglican College
Caroline Chisholm College - Learn+ Diploma Pathway
Mater Dei College - The Creative Technologies Curriculum
Southport State High Independent Public School - eLearn Digital Curriculum
St Andrew's Cathedral and Gawura Schools - English Curriculum
St Luke's Marsden Park
INNOVATION IN LEARNING ENVIRONMENT DESIGN
Winner: Adelaide Botanic High School
Excellence Awardees
Coomera Rivers State School - The Day 10 Project
Faith Lutheran College Junior School
Middle Learning Community at Hillcrest Christian College
Ormiston College
Redlands College - College Heart
St Augustine's College Sydney - Goold Building Project
Toorak College
NATIONAL AWARDS
TES AUSTRALIAN SCHOOL OF THE YEAR
Winner: Albert Park College
Excellence Awardees
Haileybury
Ormiston College
Rochedale State School – an IB Word School
YarraMe School: Centre of Expertise
anzuk Education Australian School Principal of the Year
Winner: Dr Keith Graham OAM, Rochedale State School
Excellence Awardees
Kylie Steinhardt, Marsden State High School
Rhonda Robson, St. Andrew's Cathedral School
Stuart Marquardt, Lindisfarne Anglican Grammar School