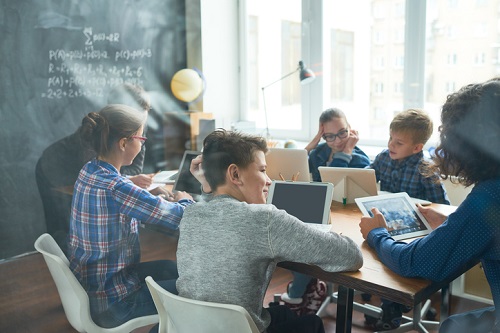 Cherie Forbes, a Year 4 teacher from Prescott College Southern, located in South Australia, said she and her fellow teachers have achieved a new level of engagement by implementing the Seven Steps to Writing Success program.
The Seven Steps has now become the main theory behind the school's writing program. By training together, they have built momentum in their whole school and created a spirit of collaboration amongst teachers – in lesson planning, sharing ideas and student work and improving feedback.
The steps involve: planning for success; sizzling starts; tightening tensions; dynamic dialogue; show rather than tell; ban the boring; and exciting endings. These steps isolate writing skills into individual steps to ensure students don't get 'bogged down' with writing the whole piece.
This process helps students gain confidence in each building block, and then pull it all together to become creative and engaging writers.
"The action activities have been so well received by the kids, they can't wait to go home to do their homework," Forbes told The Educator.
"I remember a young girl of mine getting picked up by her father. She was skipping while holding his hand and saying 'We had so much fun today! We only had 5 minutes to write and we had to make it sizzle."
Forbes also acknowledges the advantages of the Seven Steps to non-writers in remaining engaged and learning how to be great storytellers.
In creating the Seven Steps to Writing Success program, Jen McVeity has helped raise the literacy levels of more than a million children.
Aggregate data of 1,500 students in F-6 shows an 11% increase in writing skills on the NAPLAN band in just 6 to 10 weeks. The program has also been shown to improve student engagement within a matter of weeks.
McVeity said it is in the classroom that the real test of any initiative happens.
"Leaders want to see excited, engaged students; rooms with students working together, talking about techniques and happily sharing work and feedback with each other," McVeity told The Educator.
"To us it is vital that students collaborate and are active participants."
McVeity said principals are often amazed at the "self-sustaining power" of collaboration.
"Students are engaged, they often say 'yay, we've got writing now!' However, the power also comes from feedback and results. Teachers can see a rapid rise in students' literacy skills and this is exciting for teachers as well as for the student," she said.
"Simplicity is the key. Every single teacher wants to help their students learn and thrive - yet they are time poor and have huge workloads."
McVeity said teachers should be provided with a simple set of techniques to teach while being given as much support, mentorship and resources as possible.
"Once this happens, stand back and watch their students grow and classrooms change," she said.
One of Forbes' students, who has dyslexia and is a non-writer, was introduced to Sizzling Starts when other students were asked to read out their own. Forbes recalled how the boy sat and listened to five other people read their work.
"Then, he put up his hand. I asked if he'd like to share his story. He said 'Yes'," Forbes said.
"I looked at his page, he had two words. He shut his eyes, tilted his head back and told the class his Sizzling Start."
Forbes said the experience gave her "goosebumps".
"Even though he had nothing written down he had a story in his head, he was part of it and was so engaged," she said.