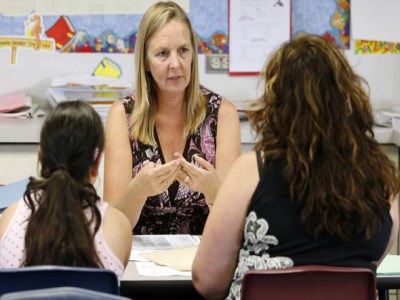 While creating a culture of feedback is not a new concept for principals, it is by no means a walk in the park to implement. Fortunately, one professional development company is making this process easier for principals.
Ken Wallace is the CEO of
Educator Impact
(EI), an organisation which helps schools develop more cohesive classrooms, increase collaboration and improve how staff and students communicate.
EI assists principals with behaviour change methodology, peer observations and evidence-based goal-setting and, depending on what stage their school is at in this journey, helps them see it through to fruition.
Wallace said EI stands out from other professional development services due to its presence as an online platform, which allows its services to be streamlined to schools in a faster and more efficient way.
"Our mission as a business is to provide quality feedback to every teacher in Australia, regardless of where they are," he explained.
"We built an online platform so we could facilitate the process of feedback to a school, whether it's a big school in Sydney or a school in a rural town in the Northern Territory."
When it comes to building a culture of feedback in their school, Wallace said the biggest challenges for school leaders in successfully rolling out a culture of feedback tends to be personal commitment and available time.
"Feedback is something schools need to create a framework for, but that can take time, so principals need to commit to ensuring the most appropriate framework gets rolled out in their school," Wallace explained.
However, how much time principals might need depends on where their school currently is in its journey of feedback, Wallace pointed out.
"Some schools already have systems in place, but might be looking to formalise them, whereas other schools might not have any feedback culture. In this instance, it's best for the school to start with some informal classroom observations and not burdening the school with too many processes," he said, adding the important thing for principals to remember is to keep the process simple.
"For example, look at ways to get a process and framework up and running, and then look at how to adapt and perfect it over time and work out how it's going to best suit your school."
Wallace noted that it is important for principals to commit to the long-haul, as the rewards of implementing such changes can be significant.
"We've seen some interesting developments in schools since starting out, and one of those is how big an impact classroom observation can have on teaching and learning," he said.
"Schools gradually become more comfortable with their culture of feedback as it gets incrementally rolled out. As principals and teachers get used to the process, more changes become apparent."
In terms of the biggest rewards for schools that successfully create a culture of feedback, Wallace pointed to both "tangible and intangible benefits".
"Some of the tangible benefits I've seen include schools being able to improve their practice, student outcomes and identify school-wide trends," he said, adding that the theory and the research on this subject was "rock solid".
"As for the intangible benefits, some principals we've worked with have noticed a common language take root in their schools, which is centred around good practice and students challenging each other in a positive way."
Another important part of this, Wallace added, was the process of student empowerment.
"A lot of schools ask how to empower their students' voice, and one of these ways is to provide them with feedback," he said.
"When you have Kindergarten kids giving feedback right from the start, they feel that their voice is taken seriously – and this flows into that broader culture."