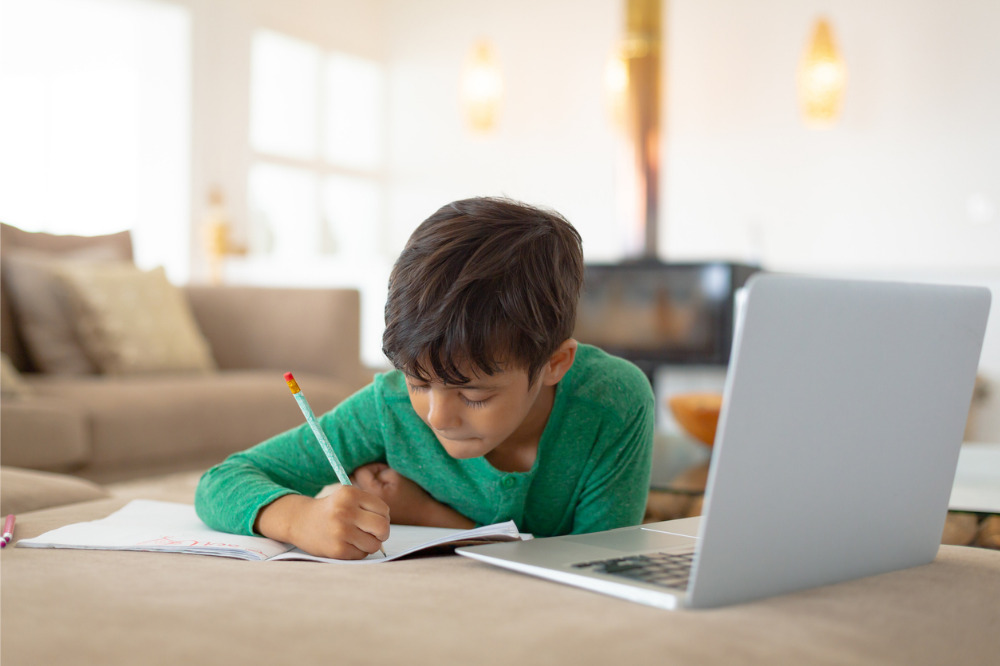 Now that students are back in school after a long hiatus, the homework debate is again heating up. Some feel homework and deadlines are a 'motivator' that prepare students for life, whereas some teachers have stopped grading altogether and find the practice to be a positive transformation for their students' learning.
And it's not just teachers who are polarised by this issue. While some studies have shown most parents want more homework, a recent study by Cluey Learning found the majority (67%) of parents worry they won't be able to effectively help their kids with homework this year.
Fortunately, concerns about the impact of falling behind in this area may be largely unfounded. More than 30 years of research shows that while doing more homework might help kids get better grades, extra study doesn't make as much difference as people think.
A 2014 Victorian Parliament inquiry into the approaches to homework in the state's schools revealed a general agreement that homework at the primary school level actually has little impact on students' academic performance.
Still, homework is likely to remain a long-term fixture of most students' lives for as long as they're at school, so rather than looking at whether students should do homework, some studies are examining how it can be most effective in terms of its impact on young people's wellbeing and academic outcomes.
Some education experts point out that just as like a balanced diet has benefits, so too do the benefits of balanced time use when studying.
Dot Dumuid, Senior Research Fellow, Allied Health & Human Performance, University of South Australia, and Tim Olds, Professor of Health Sciences, University of South Australia, "say the better equipped young people and those supporting them are to find their optimal daily balance of sleep, sedentary behaviours and physical activities, the better their learning outcomes will be, without compromising their health and well-being."
"Our recent study found the best way for young people to spend their time was different for mental health than for physical health, and even more different for school-related outcomes," they wrote in an article published in The Conversation.
"Students needed to spend more time sitting for best cognitive and academic performance, but physical activity trumped sitting time for best physical health. For best mental health, longer sleep time was most important."
Then there is the question of what constitutes meaningful homework.
According to Dr Zammit, Deputy Dean of Western Sydney University's School of Education, the 'best' homework goes beyond filling in a worksheet, memorising spelling, finishing incomplete schoolwork or doing a project. Repetitive low-level activities are merely busy work than actual learning.
"Homework should build students' capacities and understandings based on the work they are doing at school whether it is literacy, history, mathematics or any other subject," she said.
"It should be meaningful and able to be completed by the child with minimal parental assistance".
Dr Zammit said this might include talking and asking questions, learning about the child's world in greater depth or using family experiences such as shopping to engage them in learning to read or count.
"It's important to know the teacher's expectations from the beginning of the year, to help parents engage with learning, and ensure homework is enhancing student learning".
How can parents help?
Dr Selina Samuels, Chief Learning Officer at Cluey, said finding the right content to help in the right way can be particularly difficult for parents as curricula and syllabi differ by state, and books and websites can be out of date or offer poor quality information.
"The pandemic and school closures have shown parents how much they don't know about what their children are learning at school," Dr Samuels told The Educator.
"There is a huge amount of material available online, but it is hard to identify what is high quality or even relevant."
Dr Samuels said that although Australia has a national curriculum, there are differences between state syllabi that can be difficult to navigate.
"This is why we are careful to map all our programs to the curriculum, and to match students to tutors with the relevant subject and state syllabus knowledge, who understand what the students are covering in class," she said.
"We also differentiate ours program and its content so that each student works on material that is relevant to their level of ability and can directly support what they are doing at school. We want to help parents by taking the guesswork out of supporting their children's learning."