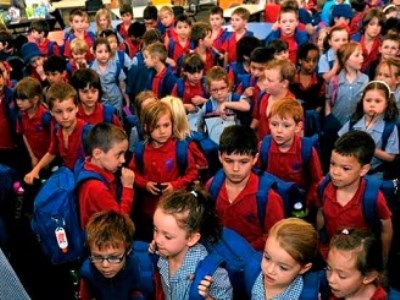 A new report warns that a rising population is putting more pressure on schools' resources, but some principals are already one step ahead.
The Australian Council for Educational Research (ACER) report revealed that demand for teachers and extra classes will rise every year until at least 2025 as babies born after 2008 enrol into secondary schools.
NSW will require 385 new classes every year until about 2020, while Queensland and Western Australia will need 443 and 351 respectively.
Nationally, Victoria is expected to have the highest demand for primary classes, with 448 additional classes each year.
However, Paul Taylor, principal at Turramurra North Public School, is already dealing with this issue in an innovative way.
Taylor has merged his Year 5 & 6 classes into a single 76-student collective, overseen by three experienced teachers.
"We believe in 21
st
century learning here at Turramurra North, and we believe in that for one core reason: our world's population is increasing at an incredible rate," Taylor told
The Educator
.
Taylor and his team transformed the library into a modern learning zone and combined the Year 5 & 6 students to create a 'super class' of 76 students, led by three teachers.
"We call it the collision of pedagogy and learning space. It's only when you really understand the pedagogy and the thinking behind it that you start to demand the change in learning space," Taylor said.
"In the end, the learning space itself becomes one of your teaching tools."
Other innovations like 'virtual schools' are providing students with the opportunity to participate in school without having to physically be inside a classroom.
Aurora College
principal,
Chris Robertson
, told
The Educator
that his 'virtual school' connects students digitally, providing both teachers and students with unique learning opportunities.
"The students log in to a virtual classroom and see the teacher and their classmates on the screen. The teacher is able to deliver the lesson in much the same way as they do in physical classrooms," Robertson said.