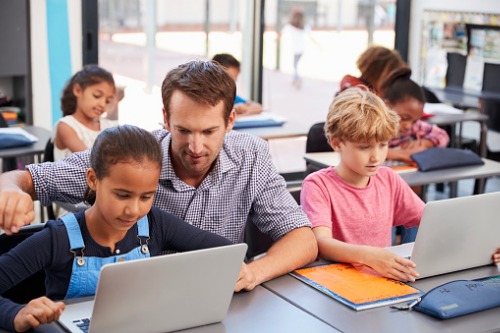 Across Australia, educators are always looking for ways to engage students and create new content.
With the growth and importance of visual content accelerating at a rate of knots, the ability for students to interpret, communicate and present ideas through the form of visual imagery is critical for them to thrive in today's world and tomorrow's workforce.
One organisation breaking new ground in this regard is Aussie design startup Canva for Education, which describes itself as a "go-to platform for project-based learning".
The organisation's drag-and-drop design tools are helping students and staff to create and communicate learnings visually through posters, worksheets, animated presentations, teaching materials, posters and other means.
Canva has been making such an impact in schools that it recently launched an integration with Google for Education to expand and streamline its access to classrooms across the world.
Below, The Educator speaks to Georgia Vidler, Director of Product at Canva, who discusses the importance of digital literacy, and how the company is helping school leaders improve students' engagement and 21st Century skills.
TE: In your view, what is the greatest value that Canva offers Australian K-12 school leaders?
GV: It's imperative students today are able to present their ideas visually to garner attention and get their messages across, stand out from the crowd and be able to portray messages that transcend cultural barriers, language and tone. Canva provides the platform for students to achieve this; empowering them with the ability to create polished designs/documents/presentations/webpages/posters/videos [the list is nearly endless] that engages, inspires and makes an impact. For example, students from the Balboa High School in San Francisco are using Canva to complete their final year projects – where they have to create a business, along with a business plan and array of marketing collateral, and pitch it to the teacher. This activity is developing the necessary entrepreneurial, creative thinking and logic skills, confidence, and ability to transform the traditional forms of communique into something more captivating and easily digestible; vital skills for their future success.
TE: Why do you think visual literacy is so important to today's school students
GV: Visual literacy is about language, communication and interaction - we use it to communicate, exchange ideas and navigate our complex world. Visuals play an enormous role in how we process information, and this is only becoming more prevalent with the uptake of social media and how time poor we all are, where we seek to digest information at a glance. Given that, the teaching of visual literacy to today's school students is paramount. Classrooms, traditionally, default to verbally-dominated instruction, however in our digital world full of devices, all with graphic-centered interfaces, it's now more important than ever to proactively teach students how to create and interpret visuals, and equip them with the tools they need to future-proof themselves so they can thrive in an increasingly visual world.
TE: What do you see as the most powerful aspects of the creative suite for students and teachers?
GV: Canva is an amazing creative resource for teachers and students. It works seamlessly across all devices and offers second-to-none access to education-specific templates, images, videos, fonts and integrations with common classroom software such as Google Classroom, Dropbox and many others. It's been developed to offer a dedicated learning space for any classroom, anywhere and of any size. But even more importantly, the power of Canva for Education comes from its diversity of use. Today's students are digital natives. They've grown up with technology and it's deeply ingrained into their lives. However, there are the 'old school' skills that come from the era of no technology in the classroom that are just as important. From face-to-face collaboration and interaction with others, through to writing, colouring in and craft, these are tangible real-time skills that Canva can also encourage. Teachers can develop engaging worksheets using Canva, print them out - and get students to write, draw, cut, discuss, present - whatever is needed to complete the task. All in all, Canva for Education helps improve student engagement and effectiveness, not only online, but offline too.
TE: I understand that Canva has just partnered with Google for Education. How did this partnership come about, and what are the most significant benefits it offers Australian schools?
GV: Our partnership with Google came about quite organically. We had been working alongside them for the last six months to ensure Canva for Education was touch-optimised for Google's Chromebooks, and integrated into the Google for Education suite of products. As our offerings, whilst complementary, solve different problems – Google's products solve classroom productivity, Canva's products solve classroom creativity. We constructed a formal partnership to collaborate on both the product and community sides at events like BETT in London earlier this year. We know many teachers on Canva use Google Classroom, and now through our partnership you can share Canva content to Google Classroom. You can also save your documents to Google Drive, pull Google Maps into your Canva presentations and enjoy single-sign on with your Google account. We believe a seamless integration between the two products offers Australian schools the best possible experience.