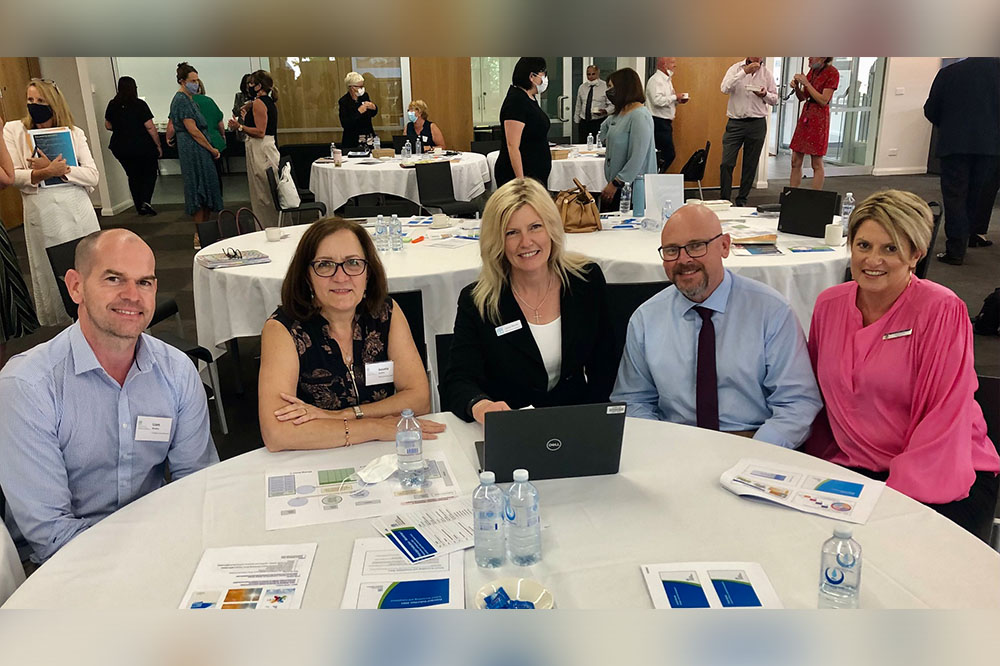 With reports showing that Australia's principals are burdened with increasing levels of anxiety, burnout and even violence, it's understandable that new leaders stepping into the role will feel a sense of foreboding.
To help these brave new principals navigate the complex aspects of their role – and there are a lot – education providers across Australia are equipping leaders with the skills they will need to thrive.
In Melbourne, a successful principal induction program is helping Catholic school leaders develop their leadership strengths, establish new professional networks and shape their capacity to lead with confidence.
On Tuesday, 22 Catholic school principals in the Melbourne Archdiocese were inducted into their new roles at the first of four workshops addressing leadership, faith and formation, accountability and compliance, network learning and support.
Jim Miles is the executive director of Melbourne Archdiocesan Catholic Schools (MACS), which was launched in October 2020 to assume the governance and operation of Australia's largest diocese.
He said the induction program helps principals address the key challenges that Australia's education system is likely to face in 2021.
"If we go back to first principles, Catholic school leadership unfolds in an educational community that is enlivened by Catholic faith. It encompasses the capacity to articulate a clearly defined vision for the school that inspires others to hear and respond to the call of the Gospel," Miles told The Educator.
"Principals today require a highly sophisticated combination of knowledge, skills, and attributes, which, in the face of constant and rapid social, economic, technological, and educational change, requires continual enhancement".
Miles said that while stewardship, discernment and management, and the accountabilities inherent in the principal role are ever-present, at the heart of the role must remain the safety, wellbeing and holistic development of the students in their care.
"The challenges of the COVID-19 pandemic here in Melbourne have both stress-tested and highlighted the capability of our principals and also brought into sharp focus the central leadership role they play in the fabric of their communities more broadly," he said.
"I believe our Catholic school principals have, and continue to, respond magnificently – displaying strong and decisive leadership, professionalism, innovation, care, and compassion".
Miles said the induction of new MCS principals "should be a process rather than an event".
"The program across the year addresses leadership, faith and formation, accountability and compliance, network learning and support, and provides support through a combination of internal workshops and networking opportunities, as well as externally brokered programs, including mentoring".
One of the inducted principals – Liam Buckley from St Joseph's school in Black Rock – says climbing up the ladder rung from deputy to school head requires a change in mind-set that takes some getting used to.
"As the leader you have to trust and empower your teachers and staff team. You also need to be an advocate for your students, families and staff, and meet their needs," Buckley said.
"The role is very diverse and can be emotionally draining. From a personal wellbeing perspective, you also need to find strategies to be able to 'switch-off'. Developing networks of critical friends and principal colleagues will be vitally important".
Upon taking up the principalship of St Peter's, Epping in Term 3 last year, Angela Tonkin was given good advice about the importance of listening – to parents, students and staff – as a vital skill for new principals.
"We have made some changes to the operation of the school, but they have been driven by the voices of the people who really count, as well as the data," Tonkin said.
"Being a principal is one of the hardest things I've ever done, but it's also incredible rewarding. I think it takes a 'village' to support a principal and I'm greatly appreciative of the programs put in place by MACS and the opportunities to build collegial networks".