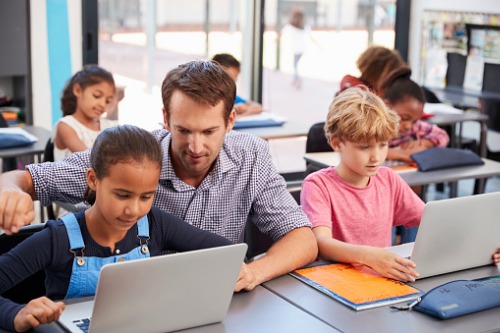 The advent of 3D printing in classrooms has provided students with alternative ways of learning, rather than the traditional classroom setting. Importantly, it has also brought subjects, especially complex STEAM subjects, to life in the classroom.
However, like any successful lesson, it begins with the teacher having solid knowledge of not only the subject, but the tools and resources required to teach it – and 3D printing is no exception.
A study released in June found that 87% of educators are restricting student access to 3D printers due to a lack of management resources and skills.
Last week, Turramurra High School became the first school in Australia to use an innovative 3D printing program as part of its STEAM curriculum. What's more, it was able to address the issue of 3D printing resources and skills that have been hindering their teaching in this area.
The be3D Academy, launched in November 2019 by Y Soft, is an online library that offers an assortment of resource rich 3D lesson plans to help teachers use 3D printing in the classroom. The teacher-tested projects include a variety of videos, student worksheets and 3D model files to assist educators in incorporating 3D printing as a learning aid.
The resource also comes with already-prepared 3D lessons plans, letting teachers spend more time with students. These 3D lessons have been developed to fit within the Australian curriculum, with quality projects that encourage critical thinking.
Students can see their concepts and designs become a finished product in a matter of hours. be3D Academy's 3D lessons can be adjusted for different skill levels so students gain maximum value.
Facilitating transformative learning
Will Delves, Turramurra High School's Year 12 assistant adviser and relieving head teacher of industrial arts, said giving students access to 3D printing provides them with an important edge in their learning.
"3D printers let us facilitate transformative learning, which increases students' ability to be creative and collaborative when learning," Delves said.
"The students really enjoyed the program and it was also easy to teach as everything that was needed to run the 3D lessons was provided in be3D Academy, from worksheets to video resources."
Delves said there was even a relief teacher with no previous experience in 3D who ran one of the projects "with no issues".
"The 3D printing process was great for students, especially for visual learners, with clear and simple touch screen instructions and prompts," he said.
"The added feature of lockable doors during printing, preventing access to filament materials, and the fact that materials were non-toxic also greatly increased the safety from a teacher's perspective".
'An opportunity to be innovative while self-learning'
Adam O'Neill, managing director, Australia and New Zealand, Y Soft, said 3D printing is "a great opportunity to increase access to emerging technologies for students and teachers alike".
"It's important for students to have access to technologies that prepare them for future jobs," O'Neill said.
"3D printing and be3D Academy not only educates students on how to use and interact with such emerging technology, but it also gives them an opportunity to be innovative while self-learning."
Drawing from the conversations he had with his staff, Delves said even teachers from more traditional core subjects have shown an interest in adding 3D printing to their lessons.
"The geography teacher is looking at incorporating 3D printing by having students design and print houses, which will be used to make a residential block, and bring to life town planning," he said.