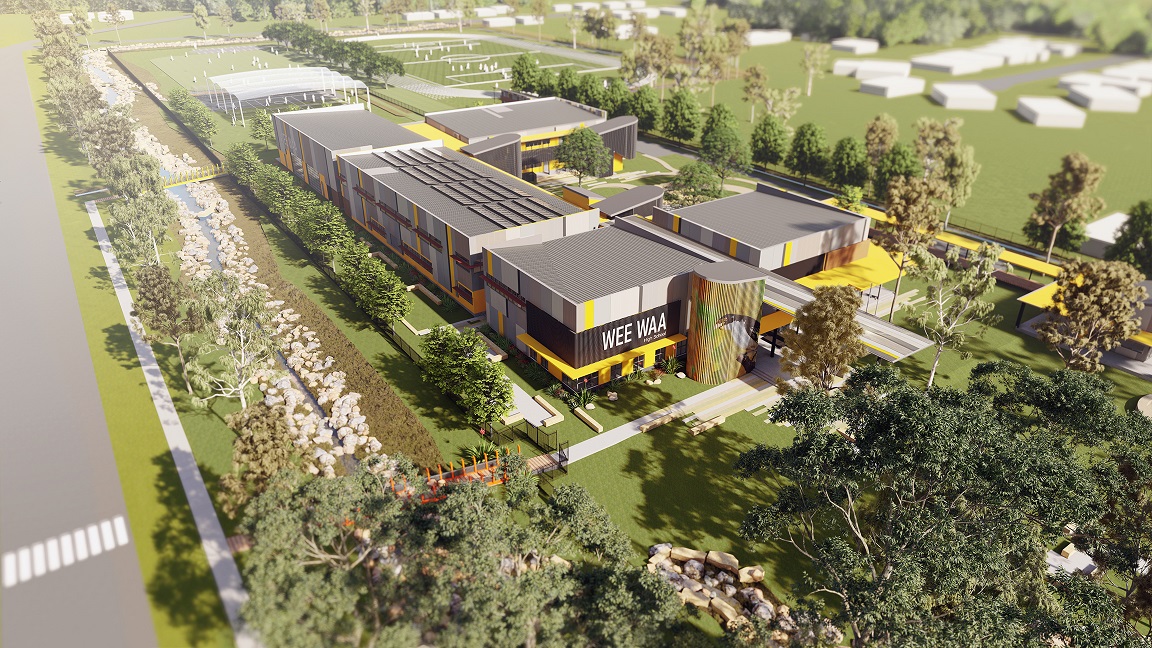 With increasing student enrolments and shrinking spaces, there is increasing pressure on educational institutions to be more creative in enhancing facilities while lifting student achievement.
To address this challenge, a number of state governments have commissioned leading architecture companies who are helping communities reimagine what schools should look like while meeting the critical need of quickly-built facilities that are both environmentally sustainable and designed to help students get the most out of their learning.
The NSW Government has partnered with construction companies such as Lipman and Built as part of a $15bn project to develop the pavilion model, which allows high-quality schools to be delivered in months instead of years.
Built CEO and managing director Brett Mason said the company's fully designed product can be built 50% faster than a conventional build and provides the flexibility to be designed into infinite configurations to meet the needs of different schools, locations and future growth.
"Built's Modern Method of Construction for schools is based on the NSW Schools Infrastructure 'pavilion' model. This allows for new schools to be prefabricated offsite as a 'kit of parts' that can be then flat packed for transport to site where it is assembled," Mason told The Educator.
"The value of this model is it allows schools to be built much faster than conventional building – up to 50% faster – while also being safer and delivered to a high quality as it is produced in a controlled manufacturing environment that removes variability and potential for defects on site. It also means less disruption to existing schools in the building process."
Mason says Built's model is different from others in the market in that pavilion schools are designed in-house by a dedicated construction team using the latest digital construction platforms and assisted by leading architects, fjmt.
"The system developed is highly flexible and able to be infinitely configured to suit different schools, locations and future growth, and it has been panellised for easier transport on a standard truck and quick assembly. It can also be disassembled and reassembled should buildings need to be moved, added to or redeployed," Mason explained.
"Additionally, our model uses cross laminated timber, which both reduces the upfront carbon emissions of building by 80% compared to a conventional build and also provides a better learning environment for children through connection to natural materials [biophilia]."
Mason said that with the introduction of rooftop solar panels, pavilion schools built using the company's product can become carbon neutral in less than two years and then climate positive (generate more carbon credits than it uses) for the remainder of their lifespan.
"We have also considered the economic flow-on effect of this method of constructing schools. Up to 95% of the components in our model are sourced from local Australian companies which generate jobs as well as by creating a simpler and more efficient construction assembly onsite," he said.
"We see this as an opportunity to train and upskill local trades and apprentices, particularly in the regions."
Mason said technology and modern methods of construction allow Built to approach construction in a much more efficient, safer and sustainable way.
"We consider this to be critical as we need to meet the needs of the NSW Government's $15 billion school building program with $7.9 billion being invested over the next four years in 215 schools," he said.
"Through this model we can also help to control costs. Through digital modelling, we can provide a highly accurate construction budget right down to the number of screws, nuts and washers required. This reduces financial risk and provides certainty and predictability to be able to progress projects quickly and within budget."
Mason said that moving forward, schools will require more flexibility in their design to meet different and future needs, as well as expansion.
"The pavilion model facilitates this by not only being able to build more quickly but also the model allows building to be assembled, disassembled and reconfigured over time as needed," he said.
"We also see the need for schools to become more sustainable as we move to reduce carbon emissions and move to a net zero future. Additionally, by incorporating renewable power using solar panels we can look towards buildings becoming climate positive."