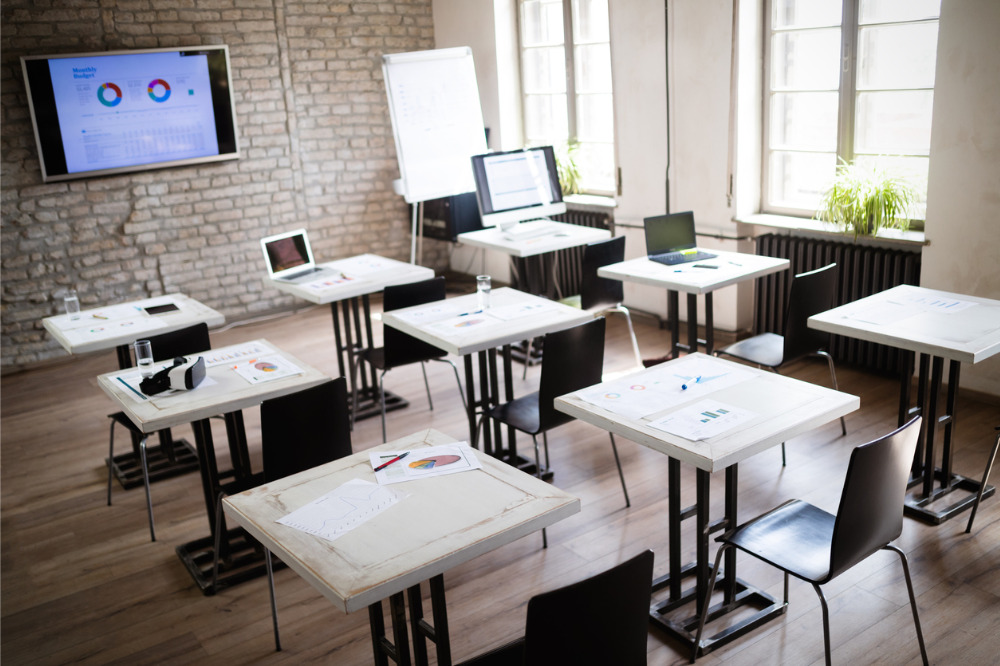 At The Educator Leaders' Summit 2020 on June 25, a number of award-winning educators from across Australia gathered virtually to discuss the biggest challenges and opportunities facing schools in 2020 and beyond.
One of the panel discussions at the Summit was: 'Classrooms reimagined – what do Australia's best learning spaces look like?'. In this panel, several Australian Education Awards winners and finalists shared practical advice and lessons they have learned while redesigning their learning spaces.
Moderating the discussion was Matthew Johnson, national president and CEO of the Australian Special Education Principals' Association (ASEPA), state president of the NSW Special Education Principals' and Leaders Association (SEPLA) and winner of Innovation in Curriculum Design 2019 at the Australian Education Awards.
One of the key questions that Johnson posed was: what have been the limitations of learning spaces in schools during the COVID-19 pandemic?
Mal Carter, principal of Mentone Grammar and a finalist of Innovation in Learning Environment Design 2019 at the Australian Education Awards, said that for his school, there have been two important elements at play.
"One is reflecting on what equipment we have within our spaces to facilitate remote learning, and this is an ongoing challenge," he said.
"We've also found that the accommodation of staff has been a big challenge. Our classrooms accommodate children satisfactorily, but our office spaces certainly needed to be modified".
Carter said his call to action for learning space design was prompted by the "pleasant problem" that his school had doubled in size over the last ten years.
"Our rebuilding and refurbishment were framed around the fact that we needed to accommodate 800 additional students – a problem that most schools would love to have," he said.
"It gave us a great opportunity to reflect on what an engaging space looks like and what the student needs are in those spaces, both in pastoral care and curriculum".
Carter said the combination of the growth in student enrolments, a desire to improve the school's performance and having a lot of old buildings on site constituted a "perfect scenario" for going ahead with an improvement agenda.
Learning spaces influence student attendance
For Andrew Kelly, principal of Redeemer Lutheran School and Winner of Innovation in Learning Environment Design 2019 at the Australian Education Awards, he pointed to the impact that the pandemic had on the building industry itself – an issue that had obvious implications for the school design space.
"The implications of COVID-19 have been different for everyone. For us, one of the significant implications was that we were about to develop a new building space and launch into a new master plan," Kelly said.
With the uncertainty that the pandemic brought across the building industry, Kelly said there was a lot of nervousness about going ahead with that building plan.
"Like many schools, we've embraced the use of technologies, and will continue on the other side of this pandemic to use technologies that are more powerful for students to learn at home and at school".
Kelly said one of the interesting collections of data the school has done recently is around student attendance and how the design of the school's learning paces has influenced this.
"We found that the attendance of our Year 6 and Year 7 students was in the high 90% percentile," he said.
"We've also been able to measure literacy and numeracy results as a result of that student engagement. When students have more choice into the design, there is often a greater appreciation of being in the space".
'A short-term chance to practice culture change'
According to Richard Malone, head of Middle School at Luther College, and a finalist of Innovation in Learning Environment Design at Australian Education Awards 2019, remote learning has brought some markedly positive changes to teacher practice.
"The challenge for schools is to work out which of these changes are worth keeping, and how to make these stick," Malone said.
"For me, that's the underlying message about innovative spaces and new design: how to create that culture that you want, then to make that stick for the long-term".
Malone said that in some ways, schools have a short-term chance to practice culture change, because innovative learning environments involves "serious change management".
"Once you get the keys to new spaces, that's where the journey begins in focusing on culture, pedagogy and teacher change, and that's probably the real journey in any real innovative learning design," he said.
"COVD-19 has focused on social distancing and the importance of space, so in innovative learning environments, how we use space is really critical".
Rethinking modern classroom design
Kevin Richardson, principal of Immanuel College and a finalist of Innovation in Learning Environment Design 2019 at the Australian Education Awards, recalled some good advice on this topic that was given by some of his students a few years ago.
"In one of our student forms, some of the kids proposed building a virtual environment that matches the physical building," Richardson said.
"Another asked: 'Why is it that when you build new buildings, you only look at the internal spaces?' Our school now have an 'every space is a learning space' model', and this even includes our diner".
Richardson said one student proposed removing teachers' desks from new buildings, reasoning that teachers tend to "hide" behind them during lessons.
"We started on those things about five years ago, and this was very helpful for us".
Richardson also pointed to the school's post-online studies which found that 23% of kids surveyed prefer online and 41% said they were more focused online.
"They also said pastoral and tutor time was also more effective online than face-to-face," he said.
Hygiene has also played a key role in the design of many spaces throughout the school, Richardson said, pointing to the importance of students and staff following new government guidelines in this area.
"If you wash your hands in our school, the only place to do that is the toilets. We've redesigned a whole heap of external wash stations with electronic taps because we have 170 boarders at our school," he said.
"The challenge for schools is that schools are considered low-risk, but residential facilities are considered high-risk, so having that many boarders has made us rethink a whole range of things around hygiene".
Richardson said his school's data shows that the number of students reporting flu and cold symptoms have not been this low in ten years.
"This shows that hand-washing actually does work. I've told my kids that they'll be the only generation that teaches kids how to wash their hands properly. In breadth, there are certainly some learnings out of that".