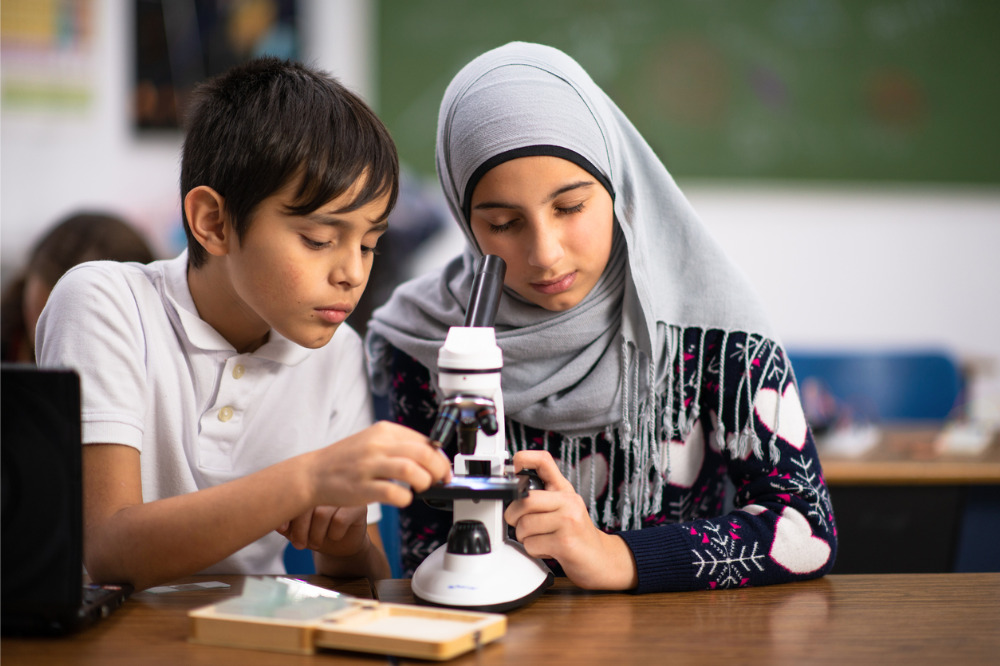 A first of its kind study has found that Islamic school students prefer STEM education over Arabic and Islamic studies.
Dr Mahmood Nathie and Professor Mohamad Abdalla of the University of South Australia surveyed 146 Year 11 and 12 students at nine Australian Islamic schools. They found that the most popular career pathways were medicine, engineering, law, and business, in that order. As such, many students favoured STEM subjects that would lead to these careers.
"These high-level occupational preferences suggest students set their occupational expectations very high which shows up in high enrolment in mathematics and other STEM courses," the researchers said.
Student interest in science, for example, was measured at 28.4% compared to the national average of 18.2%.
In another surprise finding, Muslim girls' interest in PE was roughly double their male counterparts.
"One would expect female PE participation in Islamic schools to be low given perceived negative portrayal of Muslim female indulgence in sports—especially issues conflated with wearing hijab. Our findings show the reverse," Dr Nathie said in research shared by MCERA.
Furthermore, very few students showed an interest in Islamic or Arabic studies. Cultural and religious education is one of the main drawcards for faith-based schools, so this was something of a surprise to the researchers.
"It is plain to see from the responses that they [Islamic and Arabic studies] are among the least-desired courses by students," Dr Nathie said.
"This is somewhat ironic given the heavy emphasis Islamic schools advocate championing ideals such as 'Islamic values' and 'citizens with Muslim values'".
Given drastic changes in the workforce caused by rapidly-advancing technology, Dr Nathie and Professor Abdalla recommend an increased focus on VET in schools to help prepare students for the workforce—a significant change for Australian Islamic schools.
"Our anecdotal evidence as well as online scanning of enrolment advertisements by Islamic schools indicate that these schools focus more on achieving high ATAR outcomes and less on stimulating occupational diversity and interest in VET that may benefit students in terms of choice."
An entrepreneurial approach
One school that has been making some big strides in STEMD education is Queensland school Saint Stephen's College, which was recently recognised on the national stage at the Australian Education Awards.
The school received the Best STEM Program award for its multi-faceted approach to upskilling students across the disciplines of Science, Technology, Engineering, Maths, the Arts and Design.
Saint Stephen College's principal, Kim Cohen, is aware of reports calling for greater female engagement in STEM, but doesn't have a problem with this at her school.
"Our school has a healthy number of both boys and girls choosing Physics, Chemistry and Biology," Cohen told The Educator.
Late in Term 4 this year, the College's Design and Business department ran a workshop specifically designed for Enterprising Girls. This 'boot camp'-style workshop targeted females in Years 9 to 11.
"Our students had the opportunity to collaborate across year levels on a social enterprise idea, developing their prototypes using their STEAM knowledge and pitching ideas to a panel of business representatives in Female Entrepreneurship," Cohen said.
Another initiative is The Wearable Art and Design project, which was specifically designed to attract females in Year 9 into the subject of Design.
"Twelve years ago, the subject typically attracted only male students with ambition of engineering and architecture. Fast forward to 2020, we now have at least 50% females – if not more – in some cohorts, following through with the subject in the Senior Years".