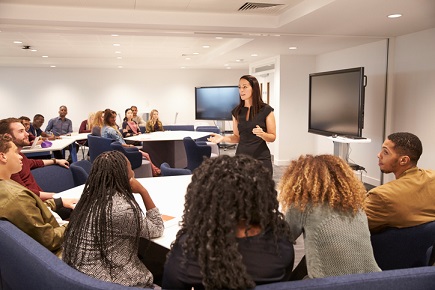 Earlier this month, the
ACEL
National Award winners for 2017 were honoured at the National Awards Ceremony during the 2017 ACEL National Conference at the International Convention Centre, Sydney.
The award winners for 2017, which included renowned educators Emeritus Professor Richard Teese and Linda Darling-Hammond, were selected for their exceptional contributions to education well beyond their organisations.
Aasha Murthy, CEO of ACEL, said the awarded leaders are "at the forefront of developments in education at both a national and international level" and have had "immeasurable positive impacts" on educators and learners.
ACEL presented the Gold Medal to Emeritus Professor Richard Teese, who is recognised for his major contributions to our knowledge of education systems, to public policy, and to the wider diffusion of knowledge about how well our schools work and for whom.
The impact of Professor Richard Teese's work extends way beyond his role as Adjunct Professor at Victoria University and Emeritus Professor of Education at the University of Melbourne.
Teese told
The Educator
that he was very grateful to receive the award as it was from an organisation "dedicated to improving education for all and which makes strenuous efforts to bring educators together."
Based on the research he has done into various education systems over the years, Teese said he has seen some promising strides being made in the context of school leadership.
"One example of leadership in schools that I've seen in this wider context is the approach to individual need and flexibility at Templestowe College in Victoria," Teese told
The Educator
.
In 2015, the College's principal, Peter Hutton, removed year levels and English as a compulsory subject, even allowing students to finish school in less than the standard six years of secondary schooling.
Since the changes that Hutton and his executive bought in, the school has thrived, both in terms of student outcomes and enrolment numbers.
Principals create the 'heartbeat of the school'
The 2017 Nganakarrawa Award – for general excellence in educational leadership – was presented to Emeritus Professor Linda Darling-Hammond, Faculty Director at the Stanford Center for Opportunity Policy in Education.
Darling-Hammond has advised school leaders and policymakers at the local, state, and federal levels. In 2008, she served as director of former US President Barack Obama's education policy transition team.
Darling-Hammond told
The Educator
that receiving the award made her realise how educators "are globally connected in the work we do with such passion to educate all children to realise their potential".
Darling-Hammond said some of the key challenges facing principals in the year ahead involve helping their staff grow in their roles and become effective leaders themselves.
"Principals set the vision and create the heartbeat for any school, and they often do so by leading from behind – supporting other educators and members of the school community to gain knowledge and to lead," Darling Hammond said.
"This complex work is made more so by the growth of knowledge, the advances of technology, the fast-paced changes in our economies which drive new expectations of education and work, and the growing diversity of societies."
She added that the challenges of redesigning schools to educate for deeper understanding, greater flexibility – as well as a more just and inclusive set of relationships among people – are "critically important" for the coming year and beyond.
Other award winners at the ceremony included Dr Ken Avenell, Senior Manager: Professional Learning & Leadership Development, Toowoomba Catholic Education, who received the Hedley Beare Award.
Dr Avenell was recognised for his lengthy commitment to educational leadership and his prolific writing on the subject for many years.
The Keith Tronc Award for Outstanding Teacher Leadership was awarded to teachers Rachael Lehr from West Beechboro Primary School WA and Shaelee Dunbar from Plumpton High School NSW, who were recognised for "transcending their own classrooms and making a real difference to schools across their states."
Related stories:
Education's 'new voices' highlighted
Crafting Australia's best principals