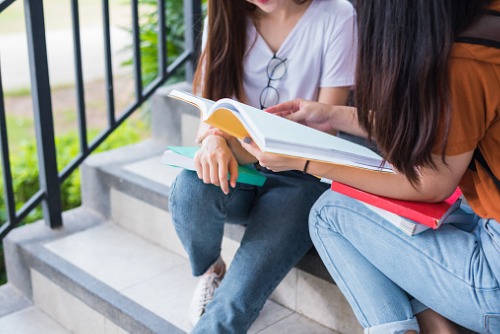 An LGBTQ advocacy organisation says Australia's current laws protecting schools from discriminating against LGBTQ students must be removed before the nation heads to the polls.
Equality Australia appeared at the Senate Inquiry into Sex Discrimination Amendment Bill on Thursday to give evidence in favour of removing what it says are "outdated laws" allowing for discrimination against LGBTQ students and teachers in religious schools.
A Fairfax-Ipsos survey released in October found that 74% of all eligible voters reject any laws that would allow schools to discriminate based on a student or teacher's sexuality, relationship status or gender.
Federal Education Minister, Dan Tehan, said protecting students from discrimination was a top priority for the Federal Government.
"We want to deal with the issue of students ... I expect that something will be done over the coming days on that," Tehan told Sky News, but refused to confirm whether there would be legislation protecting gay teachers from discrimination.
"That's obviously something we want to look at as part of the broader Ruddock review," Tehan said.
On Thursday, Anna Brown, CEO of Equality Australia, said the current "outdated and discriminatory" laws must be removed before the Federal Election, which is due to be held in May.
"More than one in three Australian school students attend a religious school. These children must be protected from antiquated the legal exemptions allowing for religious schools to discriminate against LGBTQ students," Brown said.
"School students should be able to focus on classes, education, and building friendships. They should not be living in fear of mistreatment because of who they or their families are."
Brown said: "passionate and talented" teachers should not face the risk of being fired
"because of who they love or who they are".
"Our research shows that nearly three quarters of Australians support students and teachers at faith-based schools being legally protected from exclusion on the basis of them being gay or transgender," she said.
"Students and teachers deserve protections from discriminatory religious exemptions which are harmful and out of touch with community values."
Today's hearings have already been rocked by scandal following Committee Chair Ian McDonald commenting that "the majority of families don't want to think about families with two dads".
Equality Australia's director of advocacy, Lee Carnie, said that this personal prejudice and unfounded speculation was unacceptable in a Senate Committee hearing.
"Senate inquiries are supposed to be independent and evidence-based, not opportunities to give voice to unsubstantiated and out of touch personal beliefs," Carnie said.
Carnie added that "sweeping statements founded on prejudice rather than fact" are unacceptable and undermine community trust in this process.
"We are here to provide the Senate Committee with real evidence. LGBTQ teachers and students have told us directly that they fear being kicked out of religious schools for being who they are," Carnie said.
"As a result of discrimination, LGBTQ young people face disproportionately high rates of mental health issues including higher rates of suicide and self-harm, lower education outcomes, under employment and unemployment.
Carnie said this was fact, rather than mere speculation.
"We need our schools and our legal system to support vulnerable young people," she said.
"The Senate Committee must ensure that LGBTQ teachers and students are protected against discrimination in religious schools."