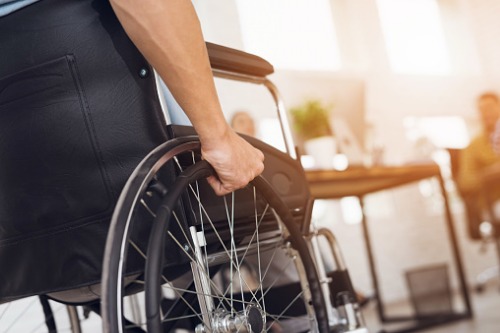 On Thursday, the Federal Government launched a comprehensive online toolkit to help employers hire people with disability and build their organisation's disability confidence and competence.
The Employer Toolkit benefits schools by making hiring processes more inclusive and helping principals access a huge, untapped pool of talent. New research shows that while 79% of Australian employers in the education sector are open to hiring people with disability, only 58% are doing so.
Another study revealed that the biggest barriers to hiring people with disability are concerns about integration and a lack of awareness and understanding.
The Employer Toolkit is an online resource to guide employers through the entire process of employing people with disability, using simple, straightforward videos, downloadable resources and highlighting real-life case studies.
It covers a range of topics relating to disability employment, including creating inclusive policies, finding and interviewing jobseekers with disability, and making adjustments in the workplace.
Assistant Minister for Social Services, Housing and Disability Services, Sarah Henderson, said the new resource has been specifically designed to be user-friendly so time-poor, corporate professionals can quickly access and absorb the practical information to assist them navigate disability employment.
Employers must avoid 'tokenism'
Allison Ventor previously worked as an assistant principal-literacy coach at Lilydale District School in Tasmania. Recently, she took on the role of a consultant for the state's private schools. She believes the toolkit provides answers to the questions that employers may be too afraid to ask or are not aware of what they should be asking or thinking about.
"I do think that it is really important that employers are employing people with disabilities who can meet the requirements of the position – with supports and adjustments – and not engaging in 'tokenism'," Ventor told The Educator.
"On the flip side, employers need to look past the disability and see the potential that someone with a disability can bring into the workplace, to meet workplace roles and responsibilities, and be a contributing member of the team."
Ventor said that for educators with a disability, it is vital that the employee is meeting the education and duty of care requirements of an exceptional educator.
"I have worked at a school that had three staff members with a visible, physical disability. All staff members were accommodated during their employment, and were expected to fulfil their roles and responsibilities," she said.
"I believe that my presence in the school normalised disability and the students became tuned in to viewing the environment and making adjustments and accommodations for me as I moved around the school."
Ventor said this included opening the door, moving furniture to make room for her wheelchair, reaching to switch on the lights or ceiling projector all without being asked.
"They were not doing these tasks to be noticed or attain affirmation. They also saw me as a teacher who happened to be physically small, but still met their standards of what a teacher should be doing," Ventor said.
"As a school leader, I worked closely with students ranging in age from Kindergarten to Year 10 and I was treated with respect and kindness. I engaged in teaching students, managing challenging student behaviours, and coaching and leading staff."
Empowering educators to take action
At the age of 14, following a train accident, Paul Harpur became blind. He says: "When I woke, alive, I promised myself I'd do something great with my life".
Harpur went on to study law, become a Solicitor of the High Court of Australia and is now one of Australia's leading international and comparative disability rights legal academics at University of Queensland, as well as a guest Harvard lecturer.
According to Dr Harpur, the new Employer Toolkit can act as a "one stop shop" for busy principals trying to figure out how a job applicant with a disability would fit in their school.
"With the Employer Toolkit, managers do not need to spend hours researching how a worker with a disability can operate and what support is available to ensure they can work to their full potential. They have a place to go to get many of these answers," Dr Harpur told The Educator.
"Of course, the toolkit does not have all the answers; but it does empower employers to know what kind of support is available, what workers with disabilities can do and to know the questions they should ask a job applicant with a disability to make an informed and equitable decision."
'Go further, be bolder'
In his 2012 paper, titled: 'From disability to ability: Changing the phrasing of the debate', Dr Harpur said there remains a struggle to remove the negative stigma associated with this form of social diversity.
Dr Harpur said the Convention on the Rights of Persons with Disabilities (Article 24) has transformed international norms regarding the right to education for people with disabilities.
"This was given new impetus by the adoption of a General Comment on the right to education by the Committee on the Rights of Persons with Disabilities. Some may wonder if this is having an impact upon people; well I am here to say it is having a real and tangible impact," he said.
In December 2018, the University of Queensland (UQ) adopted a new Disability Action Plan that expressly references and adopts the paradigm shifting approach to inclusion in the Convention on the Rights of Persons with Disabilities.
Dr Harpur was privileged to be involved in the drafting of the plan and said he was "shocked" when the Vice Chancellor's Council came back and asked the team to go further and be bolder.
"We did and adopted the vision I set out in a paper with my colleague from Harvard Law School, Professor Michael Stein entitled 'Universities as Disability Rights Change Agents'," he said.
"The vision and substance of this DAP is directly impacting upon the over 5% of students at UQ with disabilities and the huge percentage of staff with disabilities."
UQ now has a strategic plan commitment, adopted by the UQ Senate, to move from being a Disability Confident organisation to becoming a Disability Courageous university.
"We are well on the way to realize this dream," Dr Harpur said.
"K-12 schooling is pumping out great students with disabilities, UQ is welcoming them and leading the way in how they can be employed and succeed to fulfil their potential."