Per student funding for private schools has increased six to eight times that of public schools since 2009, new data shows.
In a response to the figures, published by the Australian Curriculum, Assessment and Reporting Authority (ACARA) on its National Report on Schooling data portal, public school advocates Save Our Schools (SOS), said this resource advantage of the independent sector is projected to accelerate over the rest of the decade to 2029.
"Commonwealth funding for private schools will increase under special deals not available to public schools and bilateral funding agreements between the Commonwealth and the states allow the states to continue to under-fund public schools," SOS national convenor, Trevor Cobbold, said.
According to the data, the income per student in Independent schools in 2019 was over 50% higher than for public schools − $23,956 per student compared to $15,520 per student in public schools. Catholic school income per student at $17,153 was over 10% higher than in public schools.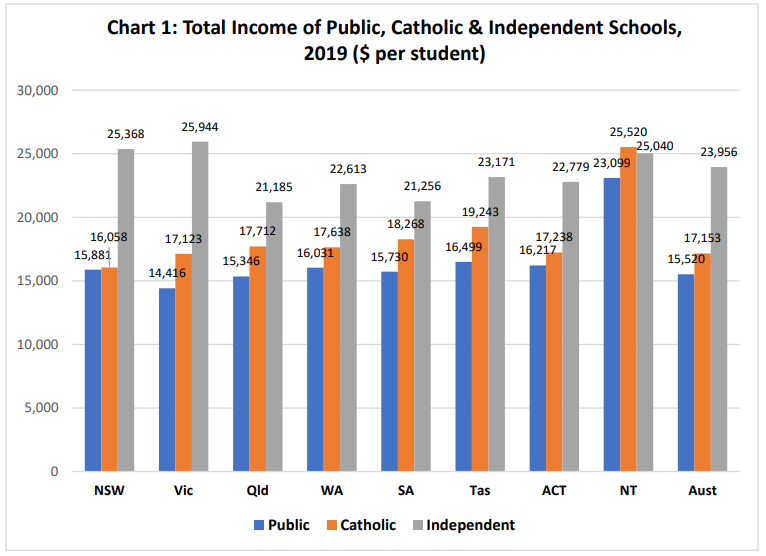 The figures found that the total income of Independent schools far exceeded that of public schools in all states, with the gap proving to be particularly large in Victoria and NSW.
In Victoria, the income of Independent schools was $11,528 per student higher (or 80% higher) than that of public schools, while the income of Independent schools in NSW was 60% higher than for public schools.
The income of Catholic schools also exceeded that of public schools in all states. The largest gap was in Tasmania where the income of Catholic schools was $2,744 per student higher than in public schools.
The gap in Victoria was $2,707 per student (19%). In the Northern Territory the income gap favouring Catholic schools was $2,421 per student (10% higher).
Resource gaps have changed dramatically since 2009
In the School Funding Brief published by SOS on Wednesday, Cobbold said that the income per student Independent schools across Australia was 36% higher than in public schools compared to 54% higher in 2019.
"In 2009, income per student in public schools was 6% higher than in Catholic schools but by 2019 Catholic school income was 11% higher than in public schools," he said.
"The primary reason for this change was much larger increases in government funding for private schools than for public schools. Government [Commonwealth and state] funding for private schools, adjusted for inflation, increased by four times that for public schools".
Meanwhile, government funding for Catholic schools increased by $1,919 per student and by $1,893 for Independent schools compared to only $469 per student in public schools. Cobbold said increased income from fees and donations for private schools completed the increased government funding.
"These figures differ from those recently published in the Report on Government Services 2021 because of differences in the way they are compiled," Cobbold said.
"However, the overall trend is the same – government funding increases have massively favoured private school since 2009".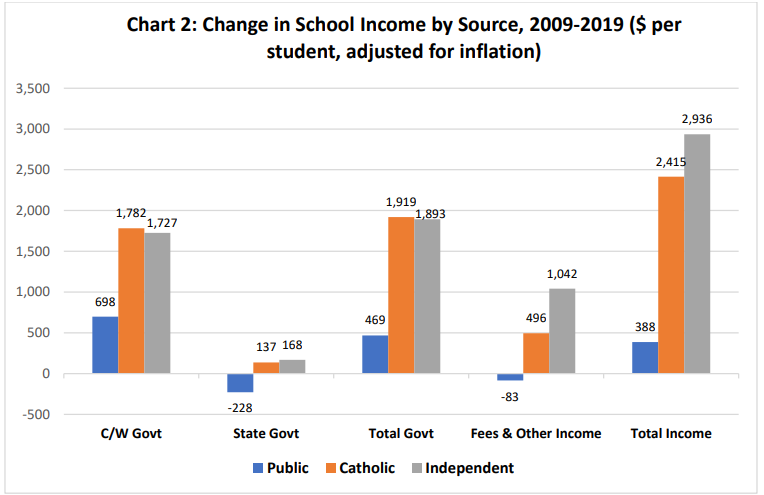 'An appalling social injustice'
Cobbold said public schools face the prospect of being underfunded "indefinitely".
"Under the current arrangements, Commonwealth funding increases will continue to heavily favour private schools until at least the end of the decade while the states will continue to underfund public schools, and several will continue to overfund private schools," he said.
"This will continue to condemn the large majority of disadvantaged students to a lesser education than their advantaged peers. This leads to lower school completion rates, higher unemployment, lower incomes, lower health outcomes and less access to positions of power and influence in society for disadvantaged students".
Cobbold said school funding policies "thereby contribute to the social reproduction of inequality in our society".
"It is an appalling social injustice, but it is also a drag on Australia's economic growth and prosperity because education is a key factor in this".
Could school funding decide the next election?
In March, a nationwide YouGov poll revealed that more than eight in ten Australians (83%) believe public school funding is too low and that increasing it should be a 'priority issue' at the next federal election.
The poll, which surveyed 1,200 people, was released by the Australian Education Union (AEU) to mark the launch of the 'Every School. Every Child.' campaign, which is targeting political parties to secure public school funding commitments.
Three-quarters (77%) of those surveyed agreed that the Federal Government has a responsibility to ensure that every school in Australia is fully funded to 100% of the Schooling Resource Standard (SRS).
"This will deliver the funding and resources needed to provide a high-quality education for all students," AEU federal president, Correna Haythorpe, told The Educator.
However, the Federal Government says the funding commitment to public schools has never been higher.
Federal Education Minister Alan Tudge said the Morrison Government is investing a record $315.4bn in funding for all Australian schools and that funding per student will increase by more than 60% by 2029.
"Commonwealth funding for government schools has grown by 63.2 per cent in real per student terms over the past decade to 2018-19, compared with 39.5 per cent in non-government schools," Minister Tudge told The Educator.
"Looking ahead, funding for government schools will grow by 101.1 per cent by 2029, compared to non-government school funding growth of 77.7 per cent. School funding arrangements are in a transition phase, which will lead to a truly needs-based funding model for all Australian schools by 2029".