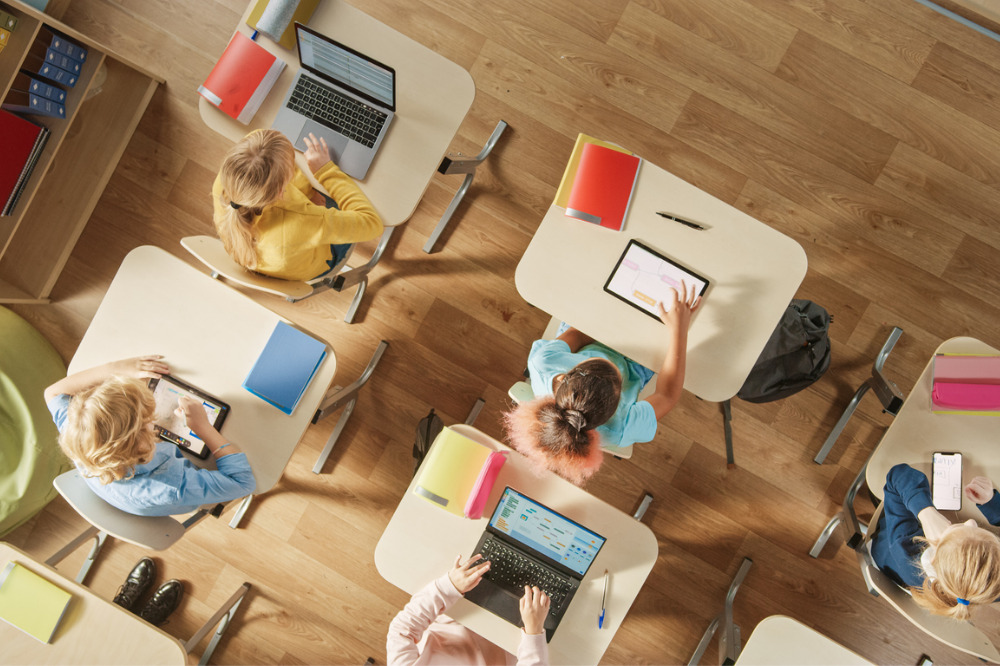 Half of Australia's secondary schools are now dual learning, using a mix of both print and digital learning resources in their classrooms, a new report shows. And the digital creep in Australia's schools only looks set to grow, with nearly 40% looking to accelerate their technology strategy and become highly tech enabled in the short to medium term.
The 'Digital Landscapes in Australian Schools 2022-2023' report, developed by Campion – the largest supplier of education resources to schools in Australia – follows a research project launched in 2022 which surveyed 135 senior staff about their school's approach to technology.
The respondents – which included principals, assistant principals, eLearning and innovation heads, ICT managers, heads of department and selected library and teaching staff – were asked several key questions, including what digital technologies their schools are using; which staff are leading their school's digital technology strategy; and what motivations are driving their strategy.
Schools banking on a digital future
Respondents reported they anticipate deepening their digital journey, with more than one third (37.5%) seeking to become highly tech enabled – some quickly (one year) and others at a measured pace (three+ years). Just 3.8% of schools surveyed said they intended to retract their digital strategies and become less digital.
By sector, non-government schools were found to be further ahead in their digital journey and strategy than government schools, with a greater number of those from the Independent sector reporting they are highly tech enabled.
The strongest benefit realised from investment in digital strategy was reported around connectivity, such as students accessing learning via wi-fi, from home, and from different locations. Other benefits included improved student learning outcomes, external brand awareness, accessibility to education, and environmental considerations.
The most frequently used technologies across all schools surveyed were PDF textbooks (96.2%) and LMS tools (95.5%), followed by interactive textbooks (92.3%), and digital learning software (90.1%).
When it came to the key factors motivating their school's digital strategy, 93.2% said potential learning outcomes and benefits were an 'extremely important or somewhat important' factor, followed by accessibility for varying learning styles and capabilities (90.8%), then Internet connectivity for students (88.3%).
"Technology has revolutionised the classroom by providing digital access to textbooks and resources alongside the traditional print format. This advancement has impacted both student wellbeing and efficacy of learning, providing both positive and negative outcomes for schools to navigate," James Cathro, Managing Director at Campion Education, told The Educator.
"Students can access materials anytime, anywhere, catering to variant learning styles with this digital access, although some educators report that this is at the expense of deeper learning that physical content provides. Dual learning therefore supports both."
Cathro said the impact of Covid-19 and lockdowns has only accelerated the adoption of technology in education.
"The next phase will involve an increased use of videos and multimedia resources, as well as consolidation platforms that facilitate easier access and integration with Learning Management Systems (LMS)."
Digital divide still growing
The report's respondents also noted the growing digital divide, especially when it comes to affordability of devices and the Internet access they require.
According to data from the Australian Bureau of Statistics, children in rural and remote communities not only have less access to digital devices but are on average 2.5 years behind their metropolitan peers in educational achievement.
"Creating equity of access faces challenges due to various factors – including learning styles, socio-economic backgrounds, and subject specific requirements," Cathro said.
"Well-informed decision-making processes can help establish a fair distribution of resources. Teachers and school management often demonstrate exceptional efforts in mitigating the negative impact of socio-economic factors on education."
Cathro said while non-government schools generally possess greater financial resources to invest in technology infrastructure, devices, and digital resources, government schools face different obstacles, noting that these can be addressed through improved funding.
Tips for an effective digital strategy
Cathro said equipping teachers with necessary skills and knowledge to effectively integrate technology into their teaching practices always positively impacts the quality of education.
"Strategies I have seen work well across schools include prioritising professional development through workshops, training, and online courses; hiring technology integration specialist; promoting peer collaboration and mentoring," Cathro said.
"Collaborating with technology companies who specialise in working with schools provides access to resources and training programs. Encouraging teachers to explore online educational resources and communities enhances their skills."
Recognising and rewarding proficient educators also incentivises skill development, says Cathro.
"These types of measures equip educators to integrate technology effectively, improving student learning outcomes and preparing them for the digital age."
'Embracing technology means embracing change'
Cheltenham Secondary College assistant principal Peter Allen, who oversees performance and development at the school, said the effective use of learning technologies has been central to his school's instructional model.
"At Chelt.Sec we are constantly evaluating the ways that we use technology to ensure there are measurable, proven learning benefits. Technology facilitates effective communication, enables exploration of ideas and provides a platform for collaboration for both staff and students," he said.
"We work with our staff to ensure that they are capable of supporting students to use technology in effective and engaging ways to enhance students' educational experiences."
Kylie Taig, head of Digital Learning Design at Carey Baptist Grammar School, said embracing technology means embracing change.
"As educators, we must constantly adapt to the changing landscape by embracing technology as a tool to create engaging and personalised learning experiences," Taig said.
"We implement opportunities that facilitate collaboration, build communication and promote creativity, while also recognising the value of face-to-face interactions and the importance of human connection in the learning process."