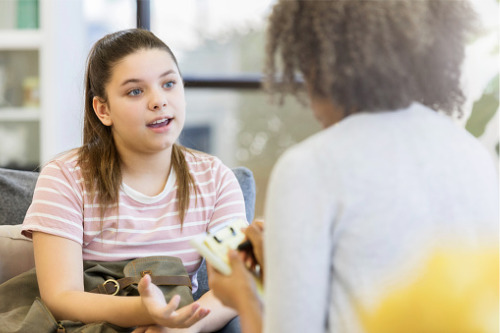 Reports have shown more than 3,900 young people allege to have been sexually assaulted in some way whilst at school, and this data has prompted calls for improved education around consent and respectful relationships.
In March, Federal Education Minister Alan Tudge announced a suit of resources aimed at addressing this serious issue. The move followed allegations from Brittany Higgins of a rape at Parliament House and the national uproar that followed.
However, the Education Department's plans to improve education in this important area at the school level has been called into question following a series of government-funded videos that went viral on social media for all the wrong reasons.
The videos, using milkshakes and tacos to explain serious and complex concepts about sexual abuse, harassment and the nuances of consent were ridiculed as being out of touch, cringeworthy and even disrespectful.
'Principals should have been consulted'
Andrew Pierpoint, president of the Australian Secondary Principals Association president, said principals were dismayed that the Department didn't consult school heads about the resources.
"If they'd said to us, what do you think we need to incorporate into this platform, we would have told them," Pierpoint told The Educator.
"The notion of responsible relationships is that that should be re-emphasised at school. It is not a school's core business".
Pierpoint said the notion of being responsible and how to behave as a young adult in our society is the parent's responsibility in the first instance.
"Modelling of those behaviours by staff is obviously important. There is a role for schools to play, but that role is not being the messenger of all of those core concepts".
New resources break the taboo
Frustrated with the current state of consent education, Sunshine Coast-based mother and filmmaker, Tasha Lawton, created Talk Revolution – a new a new learning resource created to make it easier to open the dialogue around our most taboo topics, in a way that teenagers can relate to – peer to peer.
"We can do better than that. In 2021, there really is no reason why we should be embarrassed or awkward to talk about sex or sexuality with our young people," Lawton said.
"As a collective, we are calling for sexual consent to be at the forefront of educational issues in schools, from a young age".
Created with the help of a passionate group of HPE teachers and academics from across Australia, Talk Revolution provides a series of eight video-based learning modules covering sensitive teenage 'talks': Sex Talk, Drug Talk, Alcohol Talk, Eating Disorder Talk, Gender Based Violence Talk, Sexuality Talk, Period Talk, and Suicide and Self Harm Talk.
Sex Talk in particular weighs in heavily when it comes to dealing directly with the matter of consent that is currently plaguing our young people and leaving the government, teachers and parents at a loss.
"There really is nothing like this being offered in Australian schools and Talk Revolution fills this gap," Dr. Michael Davies, Lecturer in Health and Physical Education, University of Canberra, said.
Delivered by kids for kids, Talk Revolution is designed to get kids talking about tricky topics and removes the taboo and embarrassment that has surrounded these subjects for too long.
The program has been developed for students in years 5-10 (ages 9-14) and covers 85 percent of the health content in the National/NSW and Victorian HPE Curriculum.
Taught over a four-week period, the eight modules include over 70 videos and more than 500 pages of teacher notes, talking prompts, activities, a parent letter and poster.
"By encouraging open, honest, vulnerable and authentic conversations, we can empower our kids to make better, more informed decisions as they grow up," Lawton said.
"Our goal is to see Talk Revolution in every classroom and every home. This program is crucial when it comes to normalising the conversation and smashing the shame and taboo around these sensitive topics".