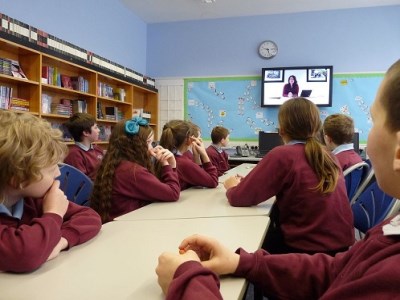 With rural students having limited access to educational resources, schools in these areas are turning to a video conferencing to bridge the disadvantage gap.
Last year, NSW first 'virtual school',
Aurora College
, opened a range of new possibilities for regional and remote students to study in selective streams or pursue challenging senior subjects locally.
In 2015, the college began conducting its first online lessons in a ground-breaking initiative designed to bridge the learning achievement gap between rural and city schools.
Another school utilising virtual learning is New Zealand's Tokoroa's Forest View High School, which is using the Volcanics eLearning Community, which covers 17 schools.
Sue Winters, the school's "ePrincipal" said that schools generally joined to utilise a wider range of programs and to improve their flexibility.
"Where there are teacher shortages in subjects we'll often have a lot of students, for example level 3 physics and level three calculus."
The advent of these schools shows that students have increasingly been turning to distance learning as video conferencing technology becomes more readily available, particularly in rural and remote areas.
However, a large private school is now jumping on this innovative bandwagon.
Haileybury, one of Melbourne's top private schools, has recently started to move towards a greater delivery of classes across its campuses using video conferencing.
Leigh Morrow, acting chief digital officer at Haileybury, told
The Educator
that this technology has the power to remove students' boundaries to a better education.
"We have one master teacher who is proficient in Latin and Classics, and is now able to teach these classes to kids in remote sites," he said, adding all that's needed is PC Lab with a camera and headphones.
"This makes it quite easy to deliver the message from one teacher across multiple classes. We have an apprentice teacher at the other campuses assisting where necessary but not needing to run the class."
A survey commissioned last year by NBN Co involving 1,000 students found that 75% use the internet to help with school courses at home. It also showed 51% used online videos to help research subjects they were studying.