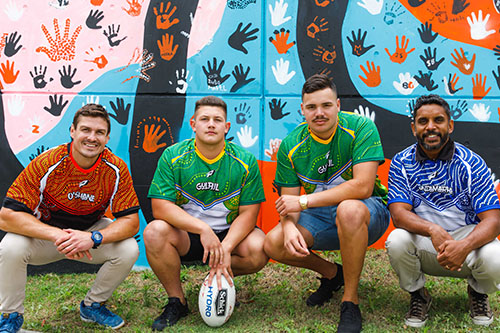 A successful program, headed up by National Rugby League (NRL), is enabling more Indigenous students to pursue further education and even secure employment.
In 2019, the NRL's School to Work program saw a record number of students finish their HSC, with more than 450 Indigenous students taking part in the program. Indigenous students participating in the program scored a whopping 96% achievement rate.
This year, the program is also expected to welcome more than 500 Year 12 students in NSW, Victoria and Queensland.
Since the launch of the Federal Government-funded program in 2012, NRL has extended aid to over 2,000 students. Further, more than 90% of these participants have since started employment or went on to pursue further education, Shawn Humphries, NRL School to Work Program manager said.
The Federal Government has committed to fund the program until the end of 2020.
Through the program, Indigenous students have the opportunity to seek help in finding a school placement as well as receive guidance should they decide to pursue employment instead of further education.
"The rugby league community has played an integral role in encouraging young Indigenous Australians to complete their schooling and transition into further education or employment. Eleven of the NRL clubs assist the program," Humphries said.
"We are focused on creating additional employment opportunities for students and have turned our attention to facilities management companies and project managers to become involved in the program."
Of the participating sectors, Humphries noted that these companies have already employed students who graduated from the program.
"And we hope to continue to leverage off existing relationships to further extend our reach to provide a supportive and culturally safe working environment," he said.
Secured workforce for participating companies
In 2019, the program got the backing of five Australian facilities and project management firms, including CBRE, BGIS, Cushman Wakefield, Evolve FM and Hutchison Builders. Smaller firms, such as Bennelong Energy Services, also took part.
These companies are also participating in this year's program.
Bennelong Energy Services director, Gaven Sheehan, notes the "mutually beneficial relationship" between companies and the Indigenous students they take on as apprentices. The company has since employed a number of students who have participated in NRL's program.
"It is important to grow our next generation of tradespeople and facilities management staff. The facilities management industry is one of the fastest growing and provides numerous employment opportunities for students," Sheehan said.
Bennelong also collaborates with NRL School to Work program in hosting two events – one of which celebrates the program's success, while the other serves as a platform to match participating students with potential employers in the facilities management sector.
"The aim is to secure several employment opportunities for 2019 graduates in a relaxed social environment," Sheehan said.
This year's events will be held in 14 February.