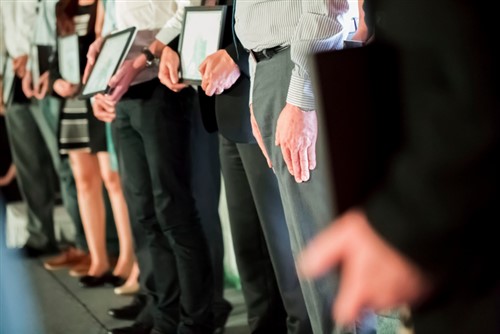 The exceptional work of 27 private school teachers in Queensland was recently honoured at a special ceremony.
Together, the Highly Accomplished and Lead Teachers (HALTs) have a combined 400 years of professional experience and bring the total number of HALTs working across 17 Queensland independent schools to 56.
They also join a select network of more than 600 teachers nationwide who have been assessed as meeting the two highest levels of the Australian Professional Standards for Teachers.
The number of nationally certified HALTs had more than doubled from about 250 to almost 500 in the past three years, as momentum builds across the country.
One of the key factors in the movement's success is that the one thing more powerful than exercising effective leadership is instilling it in aspiring leaders.
In February, the impact of HALTs was examined for the first time as part of a collaborative research project between Independent Schools Queensland (ISQ) and the Queensland University of Technology (QUT).
The report's key findings, 'Recognising the Impact of Highly Accomplished and Lead Teachers in Queensland Independent Schools', found their impact extended beyond their own classrooms to their colleagues and wider school community.
Independent Schools Queensland (ISQ) executive director, David Robertson, said teaching was not simply a job for these teachers, it was their vocation; "their heart's work".
"In today's contemporary age of 'influencers', HALT teachers are among the most essential to developing the intellectual and human capital of our nation," Robertson said.
"These primary and secondary school teachers are a powerful and influential force in schools. Their expertise deserves to be celebrated and leveraged for maximum impact locally and nationally."
Mark Grant is the CEO of the Australian Institute for Teaching and School Leadership (AITSL), which oversees the HALT program nationally. He lauded the momentum that has been build for HALT certification across Queensland.
"ISQ has a key role in recognising the expertise of these teachers and the positive impact that HALTs have on the learning lives of their students," Grant said.
"AITSL welcomes these new ambassadors of exemplary teaching into the national HALT network and congratulates ISQ for supporting their second cohort of teaching experts to achieve certification."
Queensland Independent Schools Parents Network executive officer, Sue Kloeden, congratulated the 2019 HALT teachers on achieving this distinguished professional recognition.
"I urge parents to read their stories and to appreciate and value what these teachers and their colleagues do every day to uplift and encourage students in our schools," Kloeden said.
"Many of these teachers identified the critical importance of the partnership between schools, teachers and parents in supporting student learning at every stage of school."
2019 Highly Accomplished and Lead Teachers
Brisbane Christian College (Salisbury) – 1 Lead
Cannon Hill Anglican College – 2 Lead, 2 Highly Accomplished
Glasshouse Christian College (Sunshine Coast) – 1 Lead
Hillbrook Anglican School (Enoggera) – 1 Highly Accomplished
John Paul College (Daisy Hill, Logan) – 6 Lead, 2 Highly Accomplished
Mueller College (Rothwell) – 2 Highly Accomplished
Northpine Christian College (Dakabin) – 1 Lead, 1 Highly Accomplished
Parklands Christian College (Park Ridge) – 1 Lead
St Luke's Anglican School (Bundaberg) – 1 Lead, 1 Highly Accomplished
St Margaret's Anglican Girls School (Ascot) - 2 Lead, 1 Highly Accomplished
Townsville Grammar School - 1 Lead
West Moreton Anglican College (Ipswich) - 1 Lead