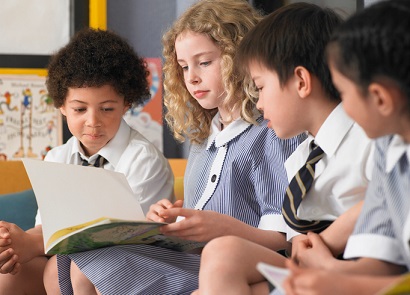 Earlier this month, the Australian Catholic Primary Principals' Association (ACPPA) – which represents Catholic primary school principals from more than 1,200 primary schools and 150 combined schools across Australia – announced a new president.
Holy Spirit Catholic Primary School principal, Brad Gaynor, took over the role from Mark Mowbray, who led St Joseph's Primary School, located in Taree, NSW.
Below,
The Educator
asks Gaynor about his appointment as well as some of the key challenges and opportunities that lie ahead for Catholic primary principals in 2018.
Can you tell us about some of the things you hope to achieve in your new role?
With an open and inclusive approach, it is my desire to further enable the ACPPA National Executive to celebrate what has been achieved in Catholic education around the country, but even more to support our colleagues, to advocate for their health and well-being and to encourage the next generation of principals.
I am passionate about ACPPA and believe we have a growing capacity to raise our national profile. To achieve this we envisage ACPPA expanding its social media presence, growing our business partners, writing regular press releases on relevant topics, providing parliamentary submissions and developing its relationships with key educational bodies.
It is my hope to that ACPPA will become even more diverse and expand our relationships with international Catholic principal associations. Another growth area is promoting and providing opportunities to develop Principals as leaders of learning. With increased sponsorship and creative marketing, we believe ACPPA has the potential to coordinate professional learning opportunities for Catholic principals.
In your view, what are the key challenges, and opportunities, for Catholic primary school principals in the year ahead?
2018 will certainly be an interesting year. The recommendations that will result from the Review to Achieve Educational Excellence in Australian Schools will be a key challenge.
ACPPA believes it is important to have time to embed effective practices around teaching and learning, not constant new initiatives and 'one off' programs. ACPPA seeks representation on key education authorities to ensure the voice of the Catholic principal in providing insight for policy development. We believe in greater authority by principals, teachers and school communities over the curriculum priorities for their community.
Increased support to teach and develop the general capabilities aspects of the curriculum is also vital. ACPPA seeks the need for a national approach that moves to an assessment for learning rather than for reporting. The removal of student NAPLAN results from My School, and include only sample testing is also a key ACPPA message to the government.
Fully understanding and negotiating the Gonski funding model will be a challenge. The legislation increases the expected fee for Catholic primary schools in Australia. This remains unsettling for many school leaders and parents, and the anxiety and pressure it is causing is worrying, and principals have had to support communities with this.
We seem to be in spiral of funding action plans and reviews resulting in confusion and fear of what we are able to provide for families in the future. Differential treatment between the three educational sectors regarding funding is harming relations between all parties and widening the gap of sharing valuable resources and knowledge to improve all student outcomes. Governments need to value all education sectors and fund them to the national average of each.
Leading a school in the current climate will be another key challenge. With the role so diverse and dynamic, school leaders are facing new and increasing pressures that are resulting in poor well-being at alarming rates and a greater decline in educational experts not wanting to take on the job.
It is important that all sectors develop policies and practices to support the health and well-being of principals. This will also have a positive effect on retaining experienced principals and ensure that all schools have school leaders with high expectations of student learning and communities that respect and value education.
Related stories:
How should principals address mental well-being in 2018?
How principals should handle difficult conversations