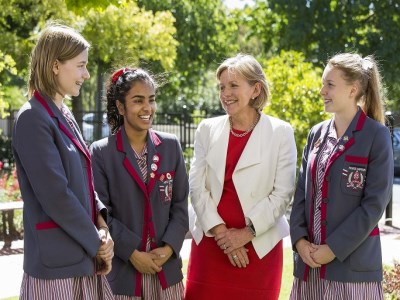 When the VCE results were released last week, Korowa Anglican Girls' School, located in Melbourne, had good reason to celebrate.
Ten per cent of the school's students received VCE ATAR scores of 99 or above, placing them in the top 1% of the state. A further 42% of students achieved an ATAR of 95 or above, while 57% achieved an ATAR of 90 or above.
The results put Korowa's median ATAR at 92.05, an achievement that the school's principal, Helen Carmody, said was reflected in the school's "strong history of excellence".
Below,
The Educator
speaks to Carmody about how the school has been directing its teaching and learning to ensure that these strong outcomes continue into the year ahead.
TE: What are some of the teaching and learning factors you would attribute to this remarkable result?
HC:
Our students are supported by their families and their teachers to find what they are passionate about and to strive for excellence in that area. Our smaller class sizes have allowed our teachers to know each girl as an individual and to help her find her own unique ambitions, interests and talents within our broad curriculum. Right up to Year 12, students are encouraged to participate in all facets of school life, including sport, leadership and the arts. I believe this offers them balance and the opportunity to discover all of the areas that they excel in.
TE: How would you describe the culture at both the student and leadership level of the school?
HC:
By their final year of school, our students have developed strong friendships and a mindset of independence and confidence which really helps them overcome any challenges during VCE. They are very supportive and caring of one another and it is fantastic to witness them celebrating not only their own achievements, but the achievements of their peers as well. We encourage students to develop friendships with other year levels through our House system, and the culture at Korowa has become one where the whole school can come together and support girls at every year level. This has been invaluable for our Year 12 girls in particular.
Our Senior girls work closely with the School Leadership, providing input and representing the student community. It has been a pleasure to work with our Captains on a number of initiatives and student-led events and I can already see a great maturity and resilience in each of the Year 12 girls. No one is defined by their VCE results or ATAR, but we acknowledge our girls' hard work and commitment to achieve their personal best. I'm excited by the opportunities that will come their way in the future and I'm confident that our graduates have the qualities to thrive beyond the school gates.
TE: Are there any new and innovative programs that Korowa is rolling out in the year ahead that you would like to share?
HC:
The next few years will be a very exciting time at Korowa as we roll out our new Master Plan. As part of this Master Plan, Korowa has unveiled designs for a new Performing Arts Centre, a Sports facility and an Early Learning Centre. These facilities will open up the campus, creating new inviting and collaborative social and learning hubs for our students.
Related Stories:
ATAR results released
Are HSC league tables doing more harm than good?