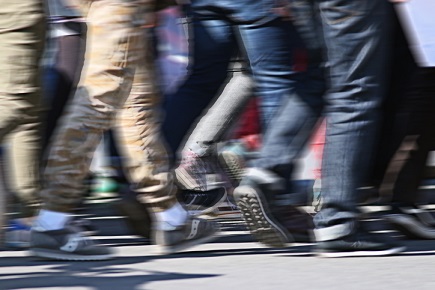 Nearly 40,000 Australian students took the day off school on Friday participate in more than 50 pro-climate change rallies throughout the country.
Friday's strikes, which advocate stronger government action towards the threats posed by global warming, marked the second time in less than three months that students have walked out of school for the popular cause.
The 'School Strike 4 Climate' movement, launched in Sweden in 2018, has since spread to more than 100 countries.
NSW Opposition Leader, Michael Daley, backed the strikes, saying the students have a right to protest, but NSW Education Minister, Rob Stokes, opposed the strikes, saying students would have been much better off going to school instead.
A number of private schools across the state have also expressed support for the student strikes, with Barker College, Tara Anglican School for Girls, Queenwood and others, confirming that they welcomed their students attending the protests.
Barker College headmaster, Phillip Heath, said approximately 40 Barker College students attended the Climate Change Rally in Sydney on Friday.
"As a school we are supportive of providing for student voice and support their passion about policies and decision making," Heath told The Educator.
Heath said that ahead of the rally, the students approached him "respectfully and in a considered way".
"We have encouraged all of our students to foster vision and not blame, to become the changes they seek to see in the world," Heath said.
"They are already leading substantial programs to promote renewables and to reduce single-use plastics on the Barker campus. It is student led change – global issues considered from a local perspective. How can I refuse to support them?"
Heath said that in "a small number of cases", students marched with their parents.
'Green political activists' encouraging strikes
However, Federal Education Minister, Dan Tehan, said if students wish to take action on issues that they think are important, they should do so after school or on weekends.
"Students leaving school during school hours to protest is not something that we should encourage especially when they are being encouraged to do so by Green political activists," Minister Tehan said in an interview on ABC News Mornings with Joe O'Brien.
"They should be encouraging students to stay at school. Sure, if they want to get students to do things outside of school hours – fine. But they should be encouraging students to attend school and learn."
NSW Secondary Principals Council (NSWSPC) president, Chris Presland, said opponents of the student strike "miss the point" of what the students are trying to do.
"It's such a tragedy that a debate even exists about whether kids should be taking a public stand and expressing their views about climate change," Presland told The Educator.
"Is there a certain age that someone must reach before they're allowed to express an opinion on something? It shouldn't matter if they're sixteen years old or eighteen years old. The gravity of what these kids are protesting over should not be ignored."
Presland said he was impressed by how well students have been articulating their concerns about climate change.
"I think this is something that we should be recognising. At a time when teens are stereotyped as being addicted to their phones and apathetic, we're seeing tens of thousands of them en masse, standing up for their views and fighting for change. They deserve far more credit than what we give them."
Have your say: Should school students be allowed to protest in public during school hours?