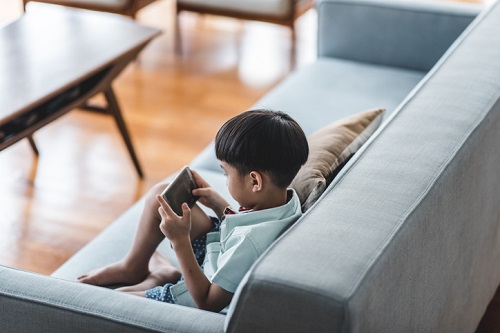 The use of smartphones and gadgets in classrooms and the playground has been a highly contentious issue among educators for some time now.
While some argue that the use of phones may have benefits for students and for educators, others say that these gadgets will cause distraction and negatively affect learning outcomes.
As a result, some state governments have resorted to imposing restrictions of mobile phone use in classrooms, with the most recent being Western Australia.
Pasi Sahlberg, who serves as professor of education policy and deputy director of UNSW's Gonski Institute, has pointed out that phone bans, while simple, are an ineffective solution and that teaching students self-control should be the proper way to address the distraction caused by phones.
However, Professor Sahlberg makes an exception when it comes to primary schools.
A recently released study by the Gonski Institute for Education, where Sahlberg serves as Institute Research Director, found that Australians have negative views about smartphones and social media in general.
The study, which involved 1,700 respondents nationwide, found that 92% of Australians believe that smartphones and social media have reduced time children have for physical activity and active outdoor play.
Some 77% also believe that social media and gadgets negatively impact children's wellbeing as well as family relationships.
Likewise, 85% of parents in the study also said they had spent more time playing when they were in their children's age.
Overall, 93% of the respondents acknowledged the benefits of free play for children and 72% also agreed that the first few years of schooling should focus on play-based learning.
"It is clear the vast majority of adults highly value benefits of play for children's wellbeing and development, and this matches up with what we know from overseas research and what we are doing here," Professor Sahlberg said.
"Learning through play may be the most effective and easiest way to help all children to learn collaboration, problem-solving, resiliency, creativity and empathy which are all highly desired future job skills."
However, despite placing importance on unstructured play in schools, just 40% of parents believe their children should have more break time in school.
How schools can help students' self-control
Despite the low opinion Australians have of smartphones, Professor Sahlberg noted that the use of these gadgets should not be totally discredited in a school setting.
"Smartphones certainly have a role to play in all our lives but at the right times and in the right ways," Professor Sahlberg said.
"I think society is only catching up to the impacts of technology and social media on children and there needs to be some controls around this."
In his opinion, published in the Sydney Morning Herald, Sahlberg reiterated that schools need to teach self-control to students to avoid the pitfalls of technology.
To keep children away from smartphones and social media longer, he said schools should impose a minimum of one hour for free play every day which should be separate from break times for eating.
Likewise, Sahlberg noted that the government should also get involved with education leaders to make sure that the curriculum can accommodate enough time for free play during school days.