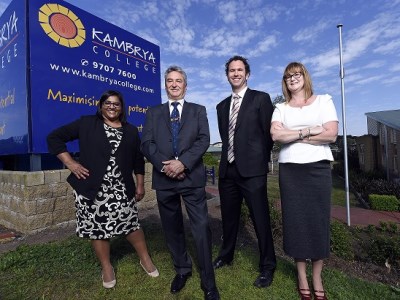 In May, Kambrya College was featured in a four-part
ABC
series titled 'Revolution School', which explored the school's struggle with low-achievement and morale, and how it bounced back through hard work, determination and the implementation of cutting-edge research.
In 2008, despite having been opened for just six years, the school was ranked in the bottom 10% of schools in Victoria, based on its Year 12 scores. That same year, Kambrya's executive set out to turn this around.
Under the leadership of its principal, Michael Muscat, the school began implementing key recommendations of renowned education professor and thought leader,
John Hattie
, and became one of the state's top performing schools.
Following the four-part mini-series, the school is reaping the fruits of its hard work, and the media exposure it attracted. Muscat told
The Educator
that student morale, staff enthusiasm and even the school's enrolment numbers, are experiencing a healthy boost.
"Teachers have been gratified that the complexity of their work and the care they provide for students was clearly portrayed," he said.
"Students came to school with a great buzz of excitement and plenty to say about each episode after being broadcast the night before."
Muscat pointed out that feedback from the community has also been overwhelmingly positive as it provided "a window into everyday life at a well-functioning state secondary school".
"Most interestingly, the documentary has resulted in a very sharp increase in enrolment enquiries at the school," he said, adding that next year, 350 students will start Year 7 at the school – a 30% increase from its 2015 enrolment figures.
School's 'relentless focus' has paid off
Muscat said the process of improving the school across all areas was hard work, but the "relentless focus" of the staff had paid off.
"School improvement is very hard work and takes many years to achieve and embed. However our relentless focus on building strong stable leadership, establishing an orderly learning environment, building teacher capacity and having high expectations for our students has achieved great results," he said.
"No doubt, when Kambrya College began to work with the University of Melbourne in 2015, we were ready to embark on two very exciting projects in collaboration with them."
The first of these was in introducing 'Independent Reading' which allocated dedicated reading time every week and individual student reading conferences for all students in Year 7 to 10.
"This is a great program and has been eagerly taken up by students and teachers," he said.
"Secondly, we have introduced the 'Visible Wellbeing' program which focuses on teaching students' self-awareness and resilience. It is taught alongside academic learning in an integrated and authentic manner."
'Absolutely no room for complacency'
Muscat said the work of a principal was always challenging because of the large workloads they must ensure.
"This school has picked itself up by the boot straps and is now a high functioning College," he said.
"But work on building leadership and teaching capacity in the college is ongoing. There is absolutely no place for complacency."