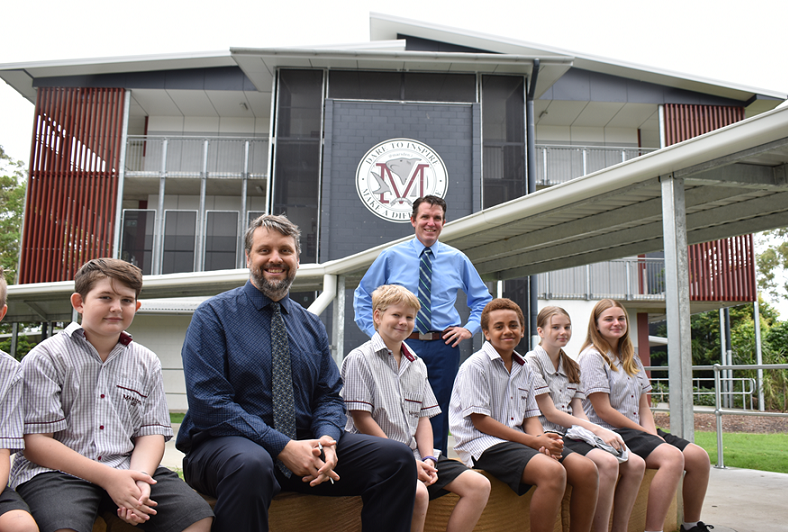 Last week, the winners and finalists of the Australian Education Awards 2020 were announced, revealing the schools and individuals at the cutting-edge of educational excellence during a profoundly disuptive year.
On the night, more than 500 principals, department heads and teachers tuned in from the comfort of their own homes to share in the excitement as awards were presented in 25 categories.
Donna Wright, head of Bandiana Primary School in Victoria, was revealed as the Australian School Principal of the Year and Gawura School (St Andrew's Cathedral) was named winner of the inaugural Australian School of the Year award.
In a hotly contested category, Amy Young, HSIE teacher at Cowra High School, took home the trophy for the Education Rising Star of the Year.
Marsden State High School picked up a whopping six trophies on the night, winning the categories of Secondary School of the Year (Government), Best Professional Learning Program, School Principal of the Year (Government), and excellence awards in the categories of Teachers Mutual Bank Teacher of the Year (Secondary School), Best School Strategic Plan and Best Student Wellbeing Program.
Below, The Educator speaks to Marsden State High School principal, Andrew Peach, about his school's tremendous success, how it was achieved and what exciting initiatives lay in wait for 2021.
TE: Having collected six awards is an amazing feat, especially in this most disruptive year! To what do you attribute this success?
Marsden SHS is such a unique environment. We're a really large school, which means we've got a really large number of opportunities on offer. It's certainly something that fills me with great pride to see the success of our school recognised in such a significant manner. We work hard across our community to provide the very best for our kids and their families, so to get this recognition heading into the Christmas holidays is great for our students, staff and community. We've already seen such a positive response across Logan and the wider community, and it is something that we are very proud of that we can bring that success to our families.
TE: MSHS was recognised for having the Best Professional Learning program in 2020. What do you believe makes the school's PL so effective, and how will MSHS be building on this success in 2021?
We've had a really strong focus on our Staff Development and Performance over the last five years. We have exceptional people working in this space to help ensure the very best environment for our teaching staff. We have a fundamental belief that we have an obligation to support our teachers to be the very best they can be in each and every classroom across the school, and that has been supported by our approach to professional learning. We've got so many different levels of teaching experience that we wanted to make sure that we provide learning at the appropriate level for our staff, and that we utilise the amazing expertise of our staff group in doing so.
Our next challenge is to continue to evolve and support our staff group in 2021. We've got some new programs next year that are targeted at supporting staff who are returning to the school after an absence due to maternity leave or other longer term leave and to support new leaders coming to Marsden SHS. Sometimes the assumption is that this group already knows the school or what is expected and we feel we can better support their time at our school. However, the overarching challenge for us is to continue to consolidate the amazing work that is already underway supporting teaching practice across the school. We're also doing some really exciting work with our online catalogue to support learning by staff anytime, anywhere. Keep posted for ways we will be able to share this more broadly.
TE: You were also named School Principal of the Year (Government). Can you tell us some of the strategies you've used as a school leader to maintain focus and wellbeing under pressure whilst simultaneously ensuring that of your staff and students?
It is a real honour to have received this recognition. My approach to maintaining focus and wellbeing is to ensure that I stay true to my core beliefs in regard to my role. My early leadership journey was shaped by the work of Daniel Pink where he highlights the importance of purpose, mastery and autonomy. As Principal at Marsden SHS I am very aware that my job is to help our staff to be the very best teachers, role models and leaders for our students and wider community. I have great support from the team at school, along with a range of partners such as the team Victoria University with the AVID program, our local cluster of primary and secondary Principals, our Schools Plus partners, Dr John Collins and our university partners. I figure if I am enjoying my work and staying closely connected to purpose, mastery and autonomy that I will be able to lead in a manner that supports my staff. Marsden SHS is a school that allows you to see the impact you make, where you can genuinely get better at what you do (no matter how well you are progressing at present) and where your professional expertise is valued.
TE: This year has delivered some important learnings to say the least. What have been the most important learnings for you as a school leader, and what opportunities do you see for educational improvement in the year ahead in the context of these learnings (both at your school and more broadly)?
I think some of the most important learning from this year has been the simplest. We have been given an opportunity to understand the value of relationships again, not just in education but in life. We've been shown how important human interaction is in many different ways. Whilst it has been great to have moved our work in IT ahead at light speed due to the necessity of the times, the desire to have our human interaction back has been strong. I think this year has also really reinforced the different ways we can tackle learning for students and staff too. Overall, though, I think it has been a chance for our school leaders to connect with students, staff and the wider community at a higher level as we look for ways to communicate through uncertainty. I'm sure that there will be some great learnings for ways that we can continue this work in 2021.