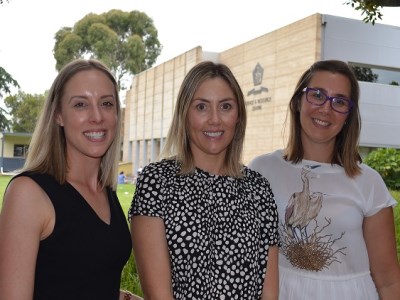 Lauriston Girls School has become the only school in Australia to be given the gender equity nod by the Australian Government's Workplace Gender Equality Agency (WGEA).
With its newfound Employer of Choice for Gender Equality (EOCGE) citation, Lauriston joins more than 120 other workplaces nationally but is the only school in Australia to have qualified.
To earn the citation, the school had to demonstrate that its board of directors consisted of six females and four males; that men and women are equally paid commensurate with their education and experience; that primary and secondary carers are both eligible for paid paternity leave; that the school has tailored parental leave and that onsite childcare is available.
'Students need good role models'
The school's principal, Susan Just, said students need good role models and to understand that a school or organisation needs people who have different skills and diverse perspectives.
"Lauriston acknowledges that to attract the best teachers and staff we must be flexible and open to a range of working models such as job sharing or part-time," Just said.
"One of the key parts of preparing students for the future is to immerse them in a culture that is fair and open. All our students need to push for gender equality in all they do."
Two weeks ago, five of the school's teachers returned to work to continue their love of teaching – albeit in a slightly new way.
The school consulted regularly with the teachers to ensure their return to work suited them, their family and the considerations of the students.
School offers tailored parental leave options
Julia Lippold, an English as an Additional Language (EAL) teacher returned from maternity leave earlier than she had planned. Lippold said it might be better for her daughter, Annika – who she described as a very active toddler – to go to daycare and be around other children.
"It was great that I could help Lauriston as the teacher who was replacing me received an offer at another school," Lippold said.
This year, she returned to be the coordinator of the EAL department which means she needs to work fulltime. Taking on this role is possible because of the school's onsite childcare which means Annika and Julia come to the same place each day.
Rani Baker is a VCE psychology teacher who has been teaching at Lauriston for more than a decade. This year is her second return to work from maternity leave having worked part-time for a couple of years in between her first and second child.
During her time away from teaching, Baker has stayed close to the school and edited VCE Psychology resources and also carried out private tutoring of VCE students. To ensure that Baker has time for her family and students, she is very organised.
"I encourage my students to make appointments with me to work one-on-one if they need to rather than seeing them spur of the moment," Baker said.
Tina Allington returned to work after having her first child. She has no extended family in Melbourne so relies heavily on Lauriston's in-house childcare.
The trade-off for Tina not being able to teach VCE and IB in a part-time capacity is that she shares the Head of Humanities department which enables her to have a key role in the curricula and planning for the year as well as being in the classroom.

Related stories:
Schools team up to help girls learn engineering skills
How one principal is getting girls future ready