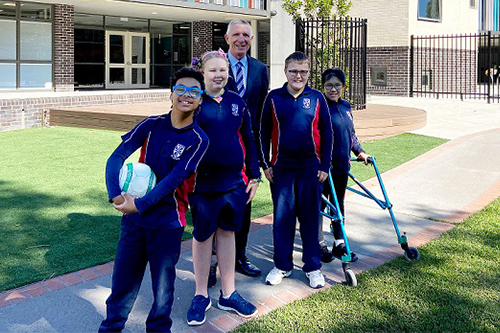 A new $15.3m state-of-the-art facility will help students with intellectual disabilities and Autism Spectrum Disorder explore and develop their capabilities and independence.
The recently opened 'Dominic Centre', based at St Lucy's School's main campus in Wahroonga, includes 16 new general learning areas (GLAs) – each with two adjoining complementary learning spaces – two large activity spaces and modern augmentative technology.
The new classrooms incorporate two kitchen sinks of varied height as well as microwaves, fridges, adjustable height benches and a large central table – designed for communal meals and the delivery of learning designed to increase independence and living skills.
The school's principal, David Raphael, said the independent Catholic school is transitioning into a K-12 school by 2024 and that the Dominic Centre will be a dynamic place of learning for Primary aged students.
"The move to K-12 is a significant change for the St Lucy's Community and is in direct response to our parent community who wanted their children to continue at St Lucy's beyond primary years," Raphael told The Educator.
"The increase in staff and students has enriched our culture. Our highest values are courage, joy, community and truth. In responding to the needs of our students by offering secondary years, we are living these values".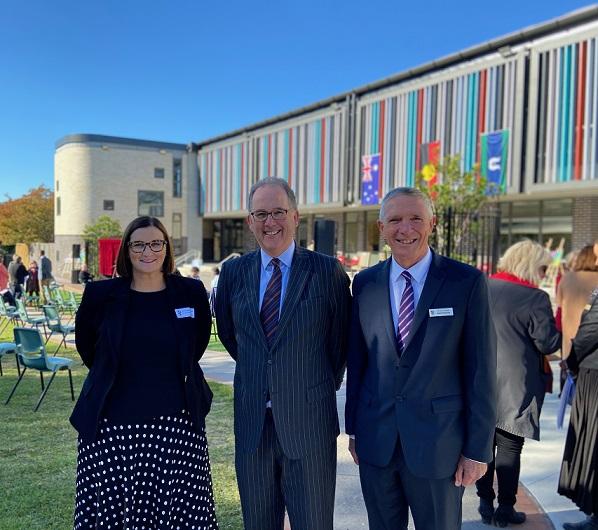 The opening of the Dominic Centre was attended by NSW Education Minister, Sarah Mitchell, Alister Henskins MP, and St Lucy's Principal, David Raphael
Raphael said the increase in offering is significant for the school's students because they will have the opportunity to participate in the NESA Life Skills Program.
"This rich and rigorous curriculum is designed to prepare students for a life of purpose beyond school. Opportunities in work education, recreation and leisure are also being offered," he said.
"Our new primary facilities provide an outstanding landscape for learning and we are looking forward to completing our masterplan which will provide exceptional facilities for our high school students".
'This Centre tells every student: you deserve the very best'
Raphael said students with disabilities, like all students, benefitted from the opportunity to learn in an innovative environment and have access to state of the art technology so that their educational journey is meaningful and exciting.
"Our Dominic Centre is a beautiful and impressive facility for our school community and says to each one of our students: 'You deserve the very best'," he said.
"St Lucy's has been able to produce a facility that provides students with places to meet and collaborate, explore new ideas, eat, relax and create."