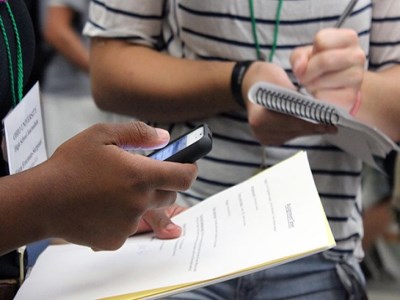 One school is offering its students an opportunity to become media savvy through a new media industry studies subject, set to be rolled out from next year.
Plumpton High School, located in Western Sydney, recently unveiled a media industry studies subject, which will provide students courses in writing for media, video, photo journalism and social media.
The subject is a collaboration between the school and industry experts and will be available to study from 2017.
More than 15 students in Year 9 and 10 will study the subject, and what's more – they'll be the first students in the state to access it.
The school's principal, Tim Lloyd, told
The Educator
that he wants the school to adopt other industry-based subjects that could potentially help students gain cadetships, apprenticeships or enter university.
"If students have a greater understanding of this industry like any other there is a greater possibility that the students will choose this as a career," he said.
"This includes educating parents that this is a great career to pursue as they have influence over student choices."
Lloyd added that many people would not be aware, for example, that there are 55 different occupations within the
ABC
– the key partner in his school's Media and Communications program.
"In addition, when we speak about understanding of the media industry, I believe students need to be immersed in the industry, completing industry based training with a business partner," he said.
In this way, Lloyd said students will make informed decisions about their future and developing the required capabilities required to give them a head start.
When asked why he thought more schools weren't rolling out media studies courses for students, Lloyd pointed to a crowded curriculum as one of the factors.
"The curriculum is very full and schools need to ensure that the context of their students is taken into account with learning being relevant and meaningful. To offer a course such as what we have written requires that the school has the expertise and necessary support including business partners," he said.
"This enables an authentic delivery of project or product based learning. I believe also in the 21
st
century that there is beginning to be more schools seeking to engage in deeper learning communities and partnerships."
Lloyd added that when schools develop these types of partnerships with authentic products being produced such as a newspaper, or a portfolio of created work, the students are more easily able to access tertiary training or a cadetship as they have a proven track record and demonstrated capacities.
"More industries and Universities over time are becoming less reliant on an HSC mark, rather preferring to take on young people based on a proven track record in the field of choice which also shows initiative and commitment," he said.
With the continued phenomenon of "instant news" and "citizen Journalism", Lloyd said he sees the subject taking on more prominence in the future.
"I see this type of course expanding into the future as it is very much linked to real world learning where students can instantly see that they have learnt and applied a skill and built capacity at the same time and have something to show for it that is relevant," he said.