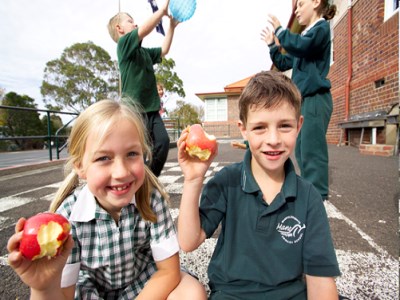 Following reports of schools selling junk food despite state-imposed health guidelines, the NSW
Department of Education
and NSW Health recently launched a review into the issue.
The review could lead to tougher restrictions on foods high in fat, sugar or salt in school canteens across the state.
Some nutritionists are now weighing into the discussion to shed light on how schools can better advocate healthy eating and educate students on the benefits – and consequences – of what they eat.
Nutrition Australia Queensland (NAQ), through its various state services, provides advice and support to schools to assist in improving food supply at schools and teaching about healthy eating in the classroom.
NAQ nutritionist and dietician, Amelia Webster, told
The Educator
that childhood and adolescence is a time when attitudes about food and eating behaviours are formed, and as such, schools can be influential in shaping students' healthy eating habits.
"The school environment can play a role in influencing food preferences and the development of healthy eating behaviours," Webster said.
"It is also worthwhile considering the relationship between food and behaviour."
Webster explained that children who have consumed healthier food are more likely to be better behaved and focused in class, helping to improve classroom learning.
"Overall, in Queensland, we are seeing an improvement in school canteens with the introduction of school food supply guidelines," Webster said.
"Beyond removing red items from menus, we encourage all schools to fully embrace and implement a healthy food supply - this includes greening up menus and reducing amber options," Webster said, referring to the
Traffic Light Food Guide
, created by Sydney Diabetes Centre.
The guide groups foods into green, amber and red categories. 'Green' foods are considered safe to eat at all times, whereas 'amber' and 'red' foods are recommended in moderate and rare occasions respectively.
"Many schools may need to look at a range of other factors to enable them to achieve a healthier food supply, these include ensuring canteens have appropriate food preparation facilities and equipment and finding enough volunteers."
Clare Knight, manager of school programs at the
Healthy Kids Association
, told
The Educator last week
that leadership is lacking within the education department on this issue and that schools must be proactive about "food literacy".
"There is a need for leadership here – a champion within the education department who will raise the importance of food literacy as appropriate for schools to be involved in," Knight said.
"Then we might see improvements."