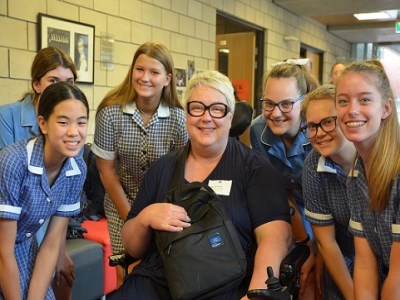 This week, a cohort of schools is launching an innovative program to help students build greater engineering skills and create solutions through a process of 'problem-finding' and 'rethinking the question'.
Lauriston Girls' School pioneered the new project called 'We have an opportunity' which was funded by an Australian Government Digital Literacy Grant which the school was awarded earlier in the year.
Together with the two other schools, Melbourne Girls College and Loreto Mandeville, Lauriston will hold design thinking workshops, taught by Kate Bissett-Johnson, Lecturer, Industrial Design & Product Design Engineering at Swinburne University.
Working in groups of seven, student teams will each be assigned a client, or person in the community who lives with a disability. The challenge for the students is to consider the concept of 'How might we create or design a new product to help make their client's life better?'
Lauriston Girls' School principal, Susan Just, said her school was keen to ensure that its students participating in the project had a meaningful task to complete, and they had access to various digital tools.
"The students participating in the digital literacy project will learn about Lauriston's design thinking process and put it into action," Just told
The Educator
.
"We know that the students we are educating today will be entering different work environments. There will be a significant demand for digital skills, critical and creative thinking and problem solving."
Just said it is vital for young women to view engineering, science and ICT as platforms for their future work and in order to do this, they must have exposure from the beginning of their school years.
"Lauriston Girls' School aims to engage girls in hands on activities, which inspire them to continue developing their interest and skills in these areas," Just said.
The school also has a program of 'signature projects' for its students from Years 7 to 10 and each of the projects run includes digital literacy and problem based learning.
"We envisage that our learnings from the Digital Literacy Grant will inform our Signature Projects well into the future. We have also established working relationships with our partner schools and we would like to maintain joint projects with them in the future," Just said.