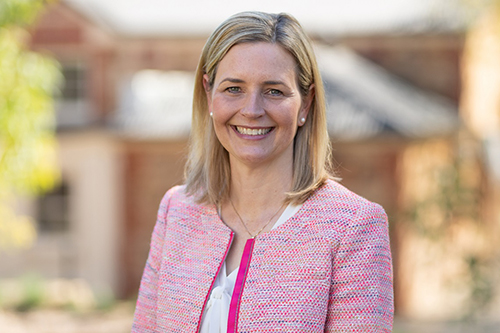 Seymour College has announced the appointment of Vanessa Browning as the school's 14th principal, taking over from Kevin Tutt, who will retire at the end of the year.
The College, one of Adelaide's leading independent day and boarding schools, has prided itself on playing an important part in shaping young, capable and confident women for almost 100 years.
The most recent NAPLAN data revealed that the College has the best performing Year 5 cohort in South Australia, a feat driven by a strong focus on helping students overcome barriers in literacy and numeracy.
Browning has been Head of Seymour's Junior School since joining from St Catherine's Sydney three years ago.
Prior to this, she held leadership and teaching roles at a number of independent R-12 schools including The Scots College (NSW), Matthew Flinders Anglican College (Qld) and Geelong Grammar (Vic).
Browning said she is honoured to have been selected to lead the school.
"Seymour College is a vibrant and caring community and I look forward to working with our students, staff, parents and wider community members in articulating a collective vision of excellence and integrity," she said.
Championing female empowerment
Kevin Tutt, who advised the Board of his intention to retire earlier this year, was named one of The Educator's Hot List 2019 winners for overseeing the introduction of the College's successful GIRLbeing wellbeing framework and the Strength Optimism and Justice program.
"Girls face pressures to conform to gender stereotypes, which are stronger in the presence of boys. There is also still gender inequality in the workplace," Tutt told The Educator.
"Women are still typically paid less and have less financial and social security than men and globally only one quarter of senior officials or managers are women".
Tutt said "archaic" messages about what it means to be male – real men provide; real men are strong at all costs; work comes first; real men are stoic and unemotional; real men are rescuers – "no longer fits, and contradicts gender equality".
"The Disney Prince archetype is seriously damaging and out of date. In the media, too, there is the portrayal of women as sex objects and selfless martyrs must continually be challenged," he said.
"The media still have a long way to go, and a lot to answer for".
'A strong leader who lives our values'
Browning and Tutt will work closely together over Term Four to ensure a seamless transition.
"In the three years that I have worked with Vanessa, every meeting with her has left me feeling energised and inspired," Seymour College Chair, Rosina Hislop, said.
"Indeed, it is little wonder that our Junior School performance has improved every year under her leadership".
Speaking on his decision to depart the school, Tutt said the impression Seymour has made on him will "stay forever"
"It has been a pure delight to work with such a committed team and a wider school community that is so wholly engaged in delivering the best for its students through academia, wellbeing and service," he said.
"Our girls inspire us every day, and I know Vanessa and her team will do an amazing job as the College heads toward its centenary in 2022."
Hislop said Tutt has made "an outstanding contribution to Seymour College over the past four years".
"He has overseen the delivery of our Strategic Plan including the building of important new infrastructure, he has worked closely with the Board through the challenges of the COVID-19 pandemic and he has always had a total commitment to delivering the best outcomes for our girls," Hislop said.
"He leaves the College in a very strong position, due in no small part to his skills in identifying and attracting outstanding educators and future leaders to our school".
Browning officially commences her new role at the start of the 2021.